About Dave
Hi! I'm Dave (the one in the middle in the photo above – the others are my lovely nieces), a family photographer based in Nottingham. Having spent 7 years as a primary school teacher I love working with children – you never know what they're going to do next (which I realise can certainly bring it's own challenges!) I realised sometimes children aren't the biggest fans of cameras and can get rather shy around new people. But I'm fluent in Kid and have lots of tricks to help them relax and enjoy themselves!
Who is Dave Fuller Photography?
I live with my wife, Amy (who is my second shooter for weddings), in Kimberley, which is just outside Nottingham. I love the outdoors, travelling and my biggest passions, other than photography, are surfing and stand-up paddleboarding. Amy's work in university research brought us to Nottingham, where I launched Dave Fuller Photography and we have now been here for nearly seven years!
Having been a primary school teacher for 5 years, I love working with kids and family photography is no different. In fact, it's even more fun! It's much easier and more enjoyable to work with children one to one or in a small group rather than trying to herd 30 of them around! I love to go on family photoshoots outdoors in nature and just have a bit of a giggle with families. It's a real pleasure when families let me share these lovely family moments with them. My style of photography is documenting the natural moments and real personalities of your family.
What inspired you to become a family photographer?
My love of family photography stems from years as a passionate photographer and working as a teacher and being fluent in the weird language that is Kid! Family photography and portraits seemed like the perfect combination of both teaching and photography.
In a nutshell, I love what I do. I get to spend the day surrounded by lovely, fun-loving families having fun. It's a privilege – not to mention a brilliant buzz – to be part of that.
What kind of photographer are you?
My photography style is rooted in documentary, which has lots of other fancy terms like 'reportage' and 'photojournalistic'. It means I work in the moment, capturing all the special, silly and spontaneous things as they happen.
I operate with minimal equipment (often just my camera, a Nikon D750) and as far as possible, natural light. This allows me to fit in with your family, weave in and out, capturing all the wonderful bits.
The results are real-life, relaxed images full of feeling.
What kind of person are you?
I'm friendly and easy going. Rather than take over, I blend in, chatting and having fun with your family. As well as putting people at ease, my 'softly, softly' approach means I'm able to capture the real emotions, real moments and your real family.
How do you manage camera-shy kids (or parents)?
Hey, I understand everyone is different, and while some people love the camera others visibly stiffen and die a little inside. Absolutely don't worry, I'll start the session off with my camera safely tucked in my bag. This gives everyone time to relax and get to know each other a little. A stranger pointing a camera at your kids should make them feel a little uncomfortable right?! But once they warm up to me and feel they know me a little, the camera will come out and we'll get some fun family photos! For those who are still a little unsure, we'll jump in puddles, throw leaves in the air or mess around with bubbles – that normally does the trick!
What do you get up to when you're not shooting families?
Amy and I are proper outdoorsy. Our passions are surfing and stand-up paddle boarding. In fact, we love the outdoors so much that we've taken the step of making our photography business greener by offsetting any pesky carbon dioxide emissions we make by planting trees. We currently plant 12 a month and if you book a wedding, we'll plant even more in your name.
Who is Dave?
I love tea, I'm fast becoming a bit of a tea geek! My favourites are the loose leaf teas at Bird & Blend, particularly 'Ginger Beer' and 'Coco Chai' flavours.
I also love cake, that's why we meet couples at a decent coffee shop!
I absolutely love surfing (I know, why did we move to Nottingham?), paddleboarding (SUP) and all things outdoors.
Cornwall, or any beach, is my 'happy place'.
My dream holiday would be Hawaii. We will get there one day.
Die Hard is my favourite Christmas film (yes, it is a Christmas film!)
My perfect night in would involve good friends, a BBQ, and a fire pit.
I really like bingeing on terrible action films on Netflix whilst Amy is out.
I make a mean Sunday roast. Thanks Dad for your mad roast potato skills.
I'm a bit on the dyslexic side, so sorry for any typos you might spot..!
I use too many exclamation marks, adjectives and generally ramble when I'm writing (from my days as a primary school teacher), so Amy has to copy check everything.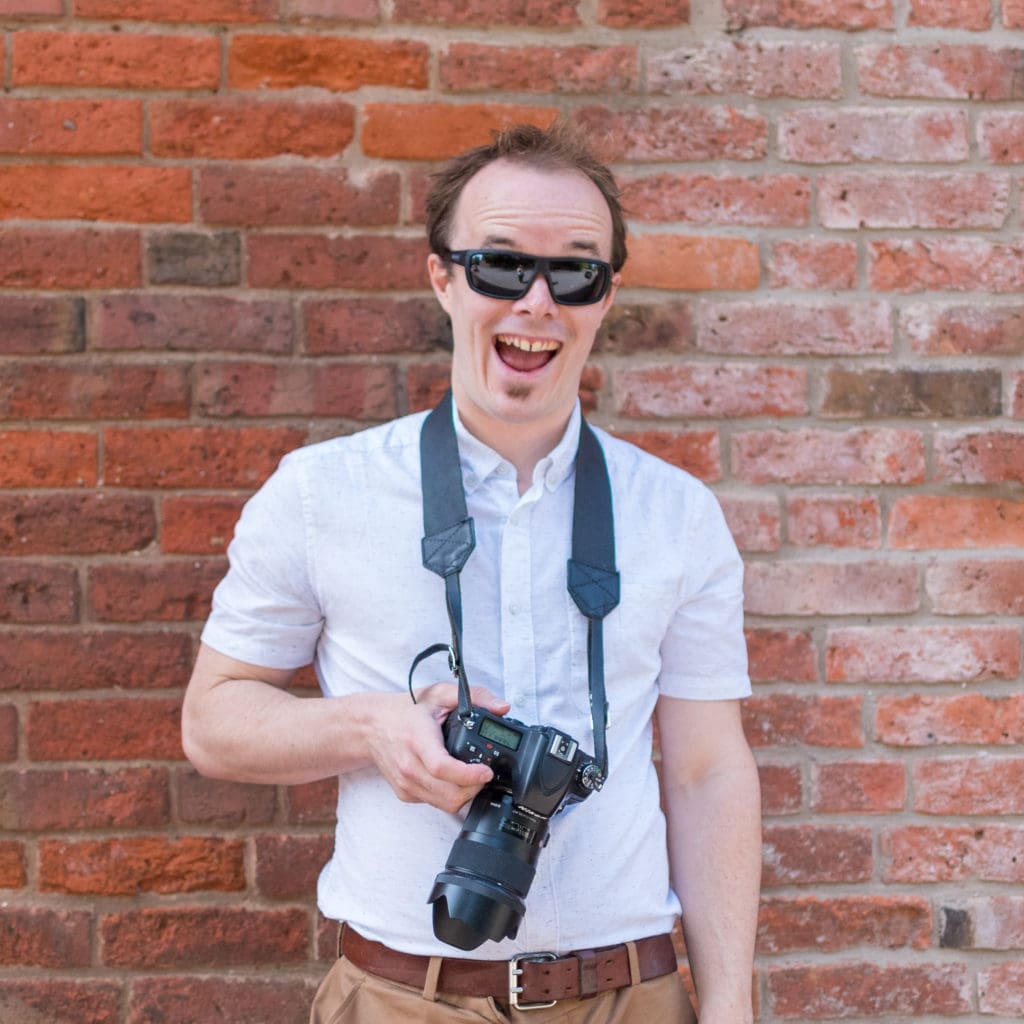 LOOKING FOR FUN FAMILY PHOTOSHOOT?