Limewood Flowers | Wedding Florist
There are so many things to consider when wedding planning, especially if you are environmentally conscious as we are. Wedding flowers might be something you assume is relatively environmentally sustainable, however you might be surpirsed. Limewood Flowers specialise in eco-friendly wedding flowers and that's what drew me to their business initially and why I've added Limewood Flowers to my guide to the best local wedding flowers, keep reading to find out the rest of the reasons!
Why do we think Limewood Flowers makes awesome wedding flowers?
We first met Fran through the awesome Unconventional Wedding directory (an awesome bunch of wedding suppliers and a cracking wedding blog!) and have loved her eco-friendly, seasonal floral designs ever since. Fran is amazing at working with couples, providing them information & inspiration (Pinterest boards for the win!) and personalising their flowers. Whether that means including flowers from mum's garden, a tartan ribbon or anything that makes them unique to you, Limewood Flowers could be just for you!
But you don't want to just hear from us! We wanted to know more about Fran, how she runs her business and what inspires here – so we asked her!
Where are you based and how far from Nottingham do you travel?
"Limewood Flowers is based in a home studio in Wragby, Lincolnshire (you have probably driven past us if you have driven to the coast!). Nottingham is about an hour and a half from me and is at the edge of my 'normal' area. That said, I love going to new places so I am happy to travel to wherever your wedding is (please say Italy, or maybe the Caribbean…) if the flower budget can encompass the cost of the travel."
How would you describe your business in three words?
"Gorgeous, eco-friendly (it's hyphenated so counts as one, right!?) flowers!"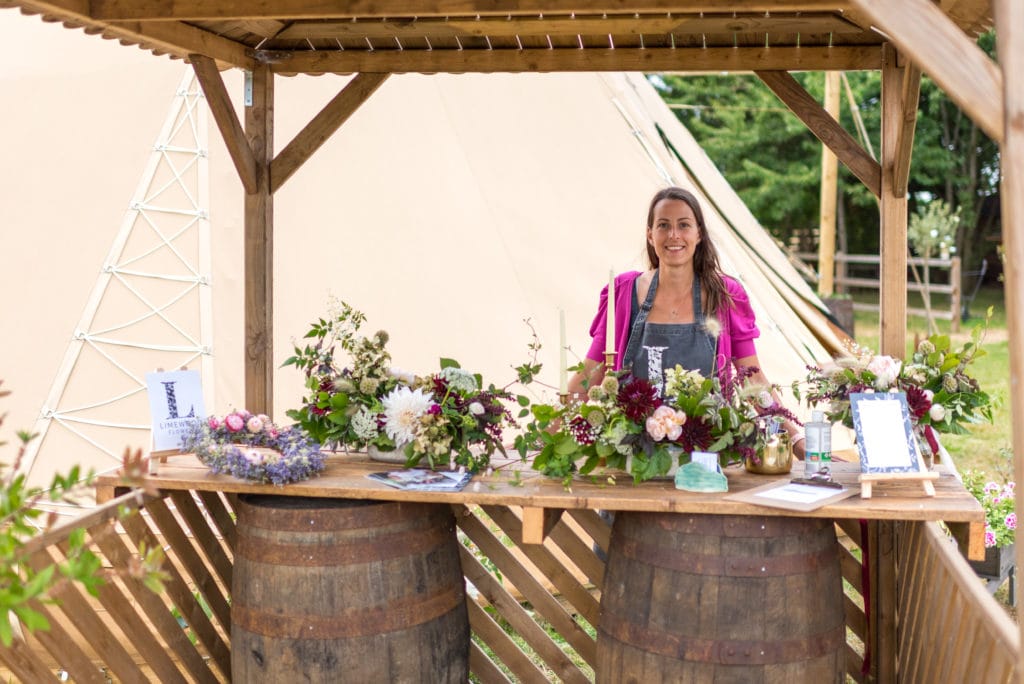 What inspires you in your business?
"Having worked a serious desk job for many years, it feels almost trite to say that beauty and happiness inspires me. I have always loved the outdoors and the beauty of nature so I decided to make it my job. Being able to share that beauty with couples and tailor every flower arrangement to their tastes to make their day even more special just does it for me.
On average, how much do couples spend with you?
"Good question. It varies quite a bit. I offer an exclusive service, which means that I only book one wedding at a time to make sure all my couples get the service they deserve. This means I have to have a minimum. This is currently £750 however most of my (postponed!) weddings for this year are in the region of £1,500.
Given the current situation however, I am looking at new options. A number of my postponed couples from this year would still like some flowers on their original date, just to celebrate with or for the legal ceremony. So, I am working on a smaller package deal using that will use only locally grown seasonal flowers in the couple's colour palette."
What makes Limewood Flowers special?
"Well, I am not sure how to answer that one! I would say it is special because I got into this for the right reasons – to create beautiful things that make people happy. So, my couples know I will do everything I can to make their day as special as it can be. Other things that I offer that I think are pretty special are:
One wedding per weekend so each couple gets the best flowers for them on the day
Private Pinterest board so we can exchange ideas and pin colour schemes without couples having to know the name of a single flower!
I work in a more eco-friendly way, and I have just started writing a blog series about what this means
Every arrangement is tailored to each couple so the flowers are unique to them, which makes every wedding more personal"
Facebook – @limewoodflowers | Instagram – @limewoodflowers
Looking for a photographer?