The Best Nottingham Wedding Celebrants
So you're engaged – that's awesome!! And you're thinking about your wedding ceremony, you're not religious so don't fancy a church and therefore the only option you've got is a registrar led legal service right? Not exactly! There is a third, awesome option – Nottingham wedding celebrants.
*Before I go on I should explain, at the time of writing, a celebrant cannot legally marry you in England. Although there is a legal challenge ongoing regarding this and the government promised a long-overdue review to the way marriages are conducted back in 2018.*
However, it is possible to have a separate legal service in a registry office on the morning of the wedding or even a different date before having your full celebration in front of all your friends and family. Which is exactly what Amy and I did when we married in 2015. The day before our wedding celebration we nipped down to the local registry office, tied the knot (legally) and then had the rest of the day for all the last minute little touches for the proper wedding the next day.
Why have a celebrant led service? For us, it was all about how personalised a service could be. We met our celebrant (Amy's old English teacher!) a few times before the day. She got to know us, our story and wrote a lovely personalised service all about us – your wedding's meant to be all about you isn't it?
Okay, so you've decided you want a celebrant, but which one!? Here's our list of some awesome local celebrants (in no particular order!):
If you have any questions or want to know our thoughts on a particular business, please contact us.
We know there are a whole lot of awesome wedding suppliers in Nottingham, we've been writing about a whole range this year, from videographers, celebrants, entertainers and planners to flowers, cakes and makeup artists.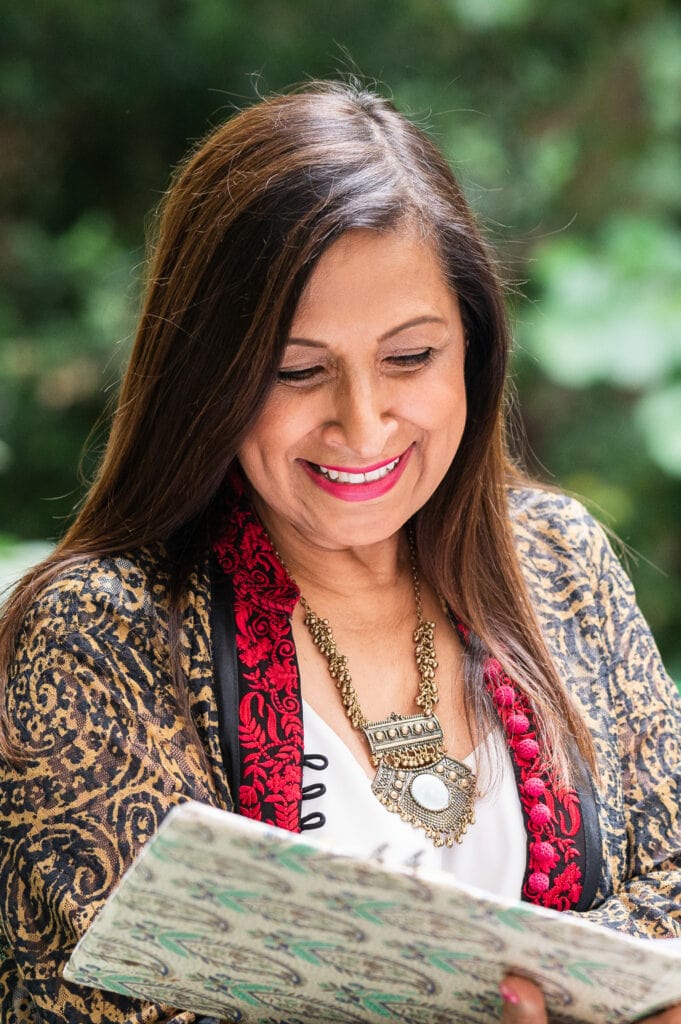 Ruby B Ceremonies
Why do we think Ruby B Ceremonies is an awesome Nottingham Wedding celebrant?
We first came across Ruby through the awesome group of suppliers that is Unconventional Wedding – which for us was a great start! Getting to know more about her we love how personal she can make a service. It really is all about the couple, she loves listening to their story and moulding the ceremony perfectly around them. Whether they're after relaxed and informal or something a little more formal, Ruby could be just what you're after!
We wanted to know more about Ruby B Ceremonies – so we asked her!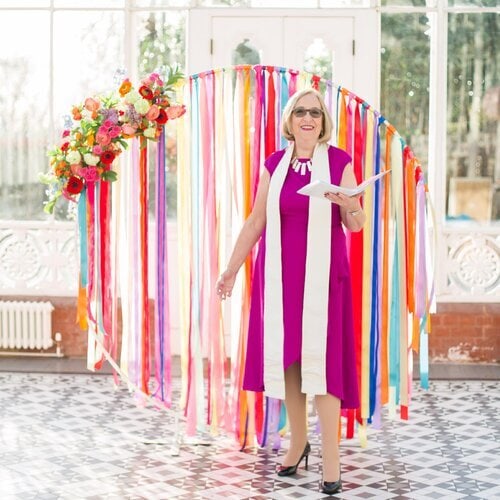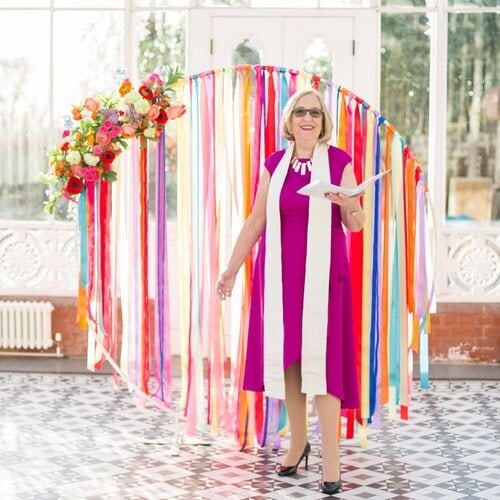 Where are you based and how far from Nottingham do you travel?
"I'm based in Newark on Trent and work mainly in the East Midlands – Nottinghamshire, Derbyshire, Lincolnshire, Leicestershire and Northamptonshire but occasionally go further afield in the UK and destination weddings abroad."
How would you describe your business in three words?
"In 3 words my business is about 'telling your story'"
Why should couples consider hiring a celebrant?
"A celebrant led wedding ceremony gives you freedom to be who you truly are and to let your ceremony set the scene for your whole day. It can be held anywhere you choose and can include anything you want. It can be relaxed and informal or as formal as a cathedral wedding. The choices are yours. Every couple is unique and their ceremony should be unique too."
What inspires you in your business?
"The couples I work with really inspire me. As I listen to their love story we can develop that to ensure that the elements within the ceremony really reflect who they are. When they tell me about their friends and relatives who will be there and who they would really like to be involved in some way, we can design the ceremony to include them. This really helps the ceremony to be unique, personal and meaningful to them. "
On average, how much do couples spend with you?
"My base fee for a wedding is £550 but that includes initial conversation, provision of an information pack, longer conversation(s) to hear a couple's story, planning and communication throughout including with other suppliers, people taking part in the ceremony etc, a commemorative certificate and a handfasting ritual with bespoke handfasting cords if required.
Each couple also gets a folder containing their vow cards, readings, certificate etc on the day. Most couples pay the base fee but occasionally if, for example, they want a rehearsal or there is considerable travel involved it may be more."
What makes your business special?
"I think that listening to people rather than asking them to complete forms (other than an initial one with their contact info) is a key part of what makes my business special. I love to hear their story – the ups and downs, the serious and the funny elements and to make sure that all of that is reflected in their big day."
Instagram – @rubybceremonies_celebrant| Facebook – @rubybceremonies
Susan Denton Celebrant
Why do we think Celebrate With Sue is an awesome Nottingham wedding celebrant?
We first met Sue back at Tying the Nott wedding fayre in 2019 and have collaborated with her a couple of times since. We love that she focuses on making a service fun, relaxed and unique. For us, that is exactly what a wedding should be and Sue sure knows how to make it happen!
We wanted to know more about her and her business, so we asked her!
Where are you based and how far from Nottingham do you travel?
"I'm based in Leicestershire and am happy to travel within a forty-mile radius which includes Nottingham and Nottinghamshire. I have officiated some truly awesome ceremonies at the Old Vicarage Elkesley and at Archway House near Mansfield."
How would you describe your business in three words?
"Unique, wonderful & fun"
Why should a couple book a wedding celebrant?
"There are so many brilliant reasons why a couple should choose to book a celebrant. The couples who choose me want a fun and relaxed vibe to their wedding day. They want a modern bespoke ceremony, officiated by a celebrant, who will get their wedding day off to the perfect start! They know their own mind and have planned their day down to the finest detail. They want something different: they are keen to share their ceremony and the day with the people they love so that they will have great memories to share together and they want them to say after the ceremony 'wow, I never expected that!'.
It's my job, as their celebrant, to make all this possible, by talking with the couple, listening to their words and creating a unique ceremony which includes their chosen elements such as personalised vows, poems, music, ring promises and rituals that reflect their personalities and wishes for their wedding day."
What inspires you in your business?
"There are so many things that inspire me in my role as a celebrant! My favourite is that I love meeting my couples and getting to know them, their love story, and their children. We meet on several occasions on the run-up to the day and spend the time chatting and laughing, often at my house, or over a latte in cafes or at the venue. These are the best times; as I get to know them, observing their synergy, their personalities, foibles, and all, and listening to their thoughts and ideas for making their ceremony unique and special to them."
On average how much do couples spend with you?
"Between £475 and £500. I offer a very comprehensive package of services to every couple. This then becomes a Bespoke Package once we have met and chatted together and I have been chosen as their celebrant."
What makes your business special?
"I am always there for my couples from Day 1 to the big day itself! For the general day-today questions, directing them to fantastic suppliers, sourcing elements for rituals such as ribbons and demonstrating my care and attention over their stressful months of planning; culminating into a wonderful and unique script ready for the couple's perfect ceremony.
I'm a modern celebrant who loves outdoor ceremonies. I create wonderful and unique ceremonies for couples who want to have a relaxed and fun vibe to their wedding day! I am a passionate people-person who enjoys making my couple dreams come true. I listen, get to know them, feel their synergy and together we create their perfect ceremony. One, they will remember forever!"
Facebook @celebratewithsue | Instagram @susanbelanovich
Star Ceremonies
Why do we think Star Ceremonies is an awesome Nottingham wedding celebrant?
As you'll read below, Evelyn is inspired by love what more could you want from a celebrant? She's somebody who will put the couple first, who will create a truly personalised wedding and who loves all things a little bit quirky and alternative. Not only this but she shares our love of outdoor weddings and handfastings so she had to make it to our list of awesome wedding celebrants!
We wanted to know more about Evelyn and Star Ceremonies – so we asked her!
Where are you based and how far from nottingham do you travel?
"I'm based in Loughborough and cover the whole of the East Midlands – Leicestershire, Nottinghamshire and Derbyshire, but am happy to travel as far as anyone wants!"
How would you describe your business in three words?
"Inspiring, creative and personal!"
Why should a couple book a wedding celebrant?
"In a nutshell – so they can have a unique, personalised, and meaningful wedding ceremony with someone they have already got to know! Once the marriage has been legally registered with two witnesses a couple of days beforehand (it takes about 10 minutes), with an independent celebrant like myself the couple can then go on to have the ceremony of their dreams! The only limit is their imagination!
A celebrant led ceremony can be secular, spiritual, or multi-faith, as traditional or creative and quirky as the couple wish, and can be held at any place & time e.g. in a woodland glade, by a lake at sunset, or even in the couple's own back garden! There is no limit on time, as we usually only do one wedding per day! Many independent celebrants like myself specialise in particular types of ceremony style. I specialise in outdoor weddings and handfastings, and I have always celebrated diversity and being open to different philosophies and cultures. I just love working with with my couples!"
What inspires you in your business?
"LOVE! The wonderful couples I work with! It's a privilege to be involved in a couple's major life event, celebrating their love & relationship in front of all the people who are important to them. And being able to help them express this in the ceremony of their dreams! Each ceremony is unique and different & reflects that particular couple and I find that really exciting!
I love the creativity of working together and creating a ceremony that's just right for them! Putting their favourite music, readings, traditions and ideas together to build a ceremony I also love working in different locations, often outside in the elements, and having to be creative and adaptable."
How much do couples spend with you?
"On average £500. This includes a home visit (or this can be done by Skype), telephone or video contact, draft ceremony for checking, order of ceremony agreed, friendly support, liaison with the venue, walk through prior to ceremony, professional delivery of service in chosen venue, and a written copy of service. There could be extra costs if there is considerable travelling involved."
What makes your business special?
"I'm pretty quirky and love thinking outside the box! I see my role as going on an adventure with a couple and creating something special & meaningful with them for their special day! And having fun along the way! I have a love of nature & specialise in festival, eco and sustainable Outdoor Weddings & Handfastings, I'm an artist so always ensure that the ceremony is visually beautiful and works well in the space. Celebrating diversity and being open to different cultures & philosophies is part of my make-up. From a lifetime of working in performance & complementary health I offer a wealth of experience. I'm pretty relaxed, flexible, creative & compassionate."
Facebook – @starceremoniescelebrant | Instagram – @starceremoniescelebrant
Kick Ass Gatherings
Why do we think Louise Gather from Kick Ass Gatherings is an awesome Nottingham wedding celebrant?
There's just something truly awesome about her catchphrase – 'Kick-ass gatherings that are all about you'! We love that she's all about all things alternative and quirky and ultimately making your wedding day kick ass! If you're the kind of couple that likes things bit different, fun and quirky then what more could you need?
We wanted to know more about Louise and her Kick Ass Gatherings – so we asked her!
Where are you based and how far from nottingham do you travel?
"I am based in Derby but cover the whole of the East Midlands as standard and I am also mega portable – I am booked for a wedding in Suffolk in the Summer!"
How would you describe your business in three words!
"Kick. Ass. Gatherings! (is that cheating?!)"
Why should a couple book a wedding celebrant?
"If you want a ceremony which isn't written by ticking box A, B or C from a list of generic vows, then a celebrant is for you!
Unlike a registrar, who you likely won't meet before your big day, I work closely to get to know couples in advance so that every ceremony is totally unique and personalised to reflect you and your relationship. No pre-written scripts here! Want it fun? Emotional? Silly? Romantic? Heartfelt? Traditional? No problem.
You can also choose to include symbolic rituals such as handfasting, sand ceremonies or even something totally bespoke to you as a couple. Celebrant ceremonies aren't constrained to licensed venues, either, so you could have your day in the middle of the woods, at your favourite beauty spot, or at the local pub where you first met… the world is your oyster.
During the general rubbishness of 2020 when all but one of my weddings was cancelled, I retrained with Humanists UK to become a Humanist celebrant. Humanists are non-religious, and believe that since this life is the only one we have we may as well live it to the fullest! This is reflected in our ceremonies, which are basically joyous celebrations of the love and relationships we form in our lives."
What inspires you in your business?
"The incredible stories that couples have to tell inspire me – I'm nosy and enjoy hearing about all the little quirks, in-jokes and origin stories of relationships! I won't lie, I also appreciate the opportunity to get my glad-rags on and attend wedding several times a month. Celebrating Humanism and promoting the work of Humanists UK is important to me, too: they do lots of amazing work campaigning for human rights and for a fairer society for all "
On average, how much do couples spend with you?
"Between £400-650 for wedding ceremonies."
What makes your business special?
"Nothing is too weird or out-there for me – whatever your vision is for your ceremony I am here for it! I have loads to offer in terms of planning, writing and delivering wedding ceremonies, and I work with couples to do this as much or as little of that as they need – some couples already have aspects they know they want to include, and some couples want me to create something totally from scratch for them. As a former English Teacher, I can offer bags of advice on the readings, structure and wording, so we will share ideas and drafts until I've crafted the perfect script so that you can enjoy the kickass wedding ceremony you deserve."
Instagram @kickassgatherings | Facebook – @kickassgatherings
Creating Memories
Why do we think Creating Memories is an awesome Nottingham wedding celebrant?
Trish from Creating Memories is passionate about working closely with couples to make their ceremony perfect for them. She'll work hard to tell their story all through her fun, friendly and funky way!
We wanted to know a little more about Trish and her ceremonies, so we asked her!
Where are you based & how far from Nottingham do you travel?
"I am based on the edge of the Peak District in the village of Idridgehay. It is about 25 miles from the centre of Nottingham but I will travel across the UK and abroad. Most of my weddings are in Derbyshire/ Nottinghamshire/ Staffordshire."
How would you describe your business in 3 words?
"Unique, personal and fun!"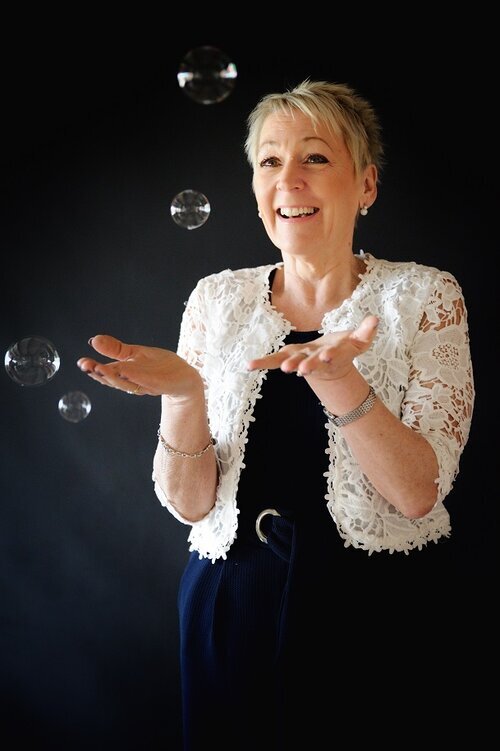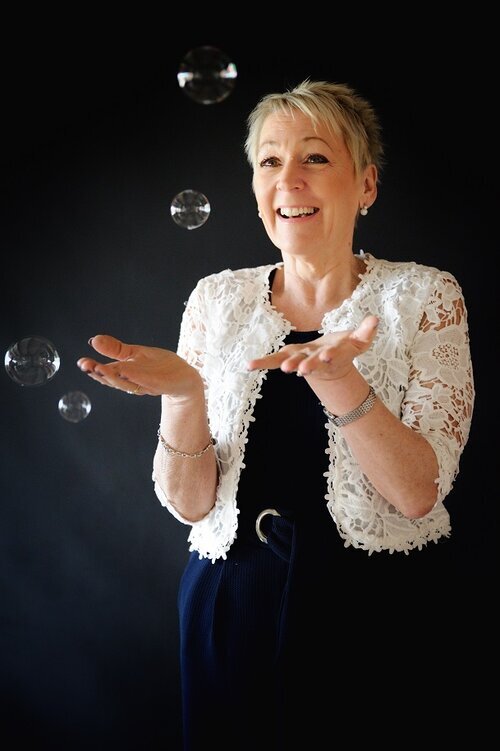 Why should a couple book a wedding celebrant?
"Choosing a celebrant is perfect if you are looking for a ceremony that is different from the rest, where you have more choice for the location e.g. outside, and where you get to decide on the vows you say rather than the same words that are spoken by every other couple. You might like to have more freedom to involve family and friends in the ceremony or to include some form of symbolism like handfasting, a sand ceremony, whisky blending and plenty more. There is so much more choice to make your special day personal and meaningful to you both."
What inspires you in your business?
"It's the best job ever and a joy from start to finish! Why wouldn't you want to be part of one of the most memorable and happiest days of a couple's life? I love meeting people and hearing their story. A story that I then have the privilege to write and deliver in front of their family and friends. I have a passion for writing and I try to go above and beyond for my couples. If they want a reading but want something different and that has never been heard before then I will write them their own poem. The happiness on everyone's face is priceless to see."
On average how much do couples spend with you?
"As well as weddings, I also conduct ceremonies for renewal of vows, baby naming and celebration of life. So depending on the ceremony my prices vary from £250 – £500. I have a set price of £500 for weddings, irrespective of the day of the week or the time of the year. This is because the same amount of care, attention and support goes into every ceremony that I write and conduct. The only additional small charge might be for travelling if the ceremony is more than 30 miles from my home."
What makes your business special?
"I am passionate about my business and what I do. I am friendly, fun and funky and, although I enjoy conducting ceremonies at any venue, I love helping couples to think 'outside the box' and maybe consider having their ceremony somewhere different, like outside, by a lake, in a field, on a farm or even under the stars!
I also believe that the words and vows you speak to your partner should be one of the most important parts to the ceremony. It is your opportunity to express your love and commitment to one another, whether they are said with lots of emotion and tears or with fun and laughter. It's the reason why you are getting married and they deserve to be given a lot of thought. I will support and help you to really think about this part of the ceremony. I will spend a lot of time, at our initial meeting, getting to know you as a couple and talk through some options that you might not have considered. Perhaps you would like to mention someone who cannot be with you on the day, but has a special place in your hearts and lives. I will give you lots of ideas of how to make your day unique, personal and memorable and I will always be on hand to offer help and answer any questions that you may have."
Phone – 07931 237 211 | Facebook – @trishp10
Ceremonies By Dawn
Why do we think Ceremonies By Dawn is an awesome Nottingham wedding celebrant?
We love her attitude towards tradition, that couples shouldn't include traditions that simply aren't them. We've always thought of traditions as a list of 'coulds' rather than 'shoulds'. You should only include them if you want to not you should feel obliged to include them. We also love her relaxed approach to life and how this transfers into her planning and carrying out beautiful ceremonies.
We needed to know more about Dawn and what makes her ceremonies awesome, so we asked her!
Where are you based and how far from Nottingham do you travel?
"I cover all of Nottingham plus 30 miles within my fixed price and I cover Tenerife from February to April each year, however I will travel anywhere else at a cost. Nationally or Internationally!"
How would you describe your business in three words!
"Personal, creative & unique."
Why should a couple book a wedding celebrant?
"A couple should have a wedding celebrant if their ceremony means more than just saying "I do".

Having a wedding celebrant makes your wedding ceremony personal. A great wedding celebrant will write a ceremony that reflects the couples personalities, making it unique to them. A celebrant wedding has so much flexibility, it can be fun, romantic and serious all at the same time, it can be inside or outside, religious, semi-religious or non-religious. Every draft ceremony starts with a blank piece of paper, no templates are used, no menu-style vows and promises to choose from, no Restrictions and no Rules. Your Wedding, Your Way!"
What inspires you in your business?
"I am inspired by each couple I work with. I see myself as a story teller, I get to tell their love story throughout the ceremony. I meet with the couple during the planning process and I build up a relationship with them, therefore I am not a stranger on their wedding day, which again makes it more personal for them, and for me. Every relationship is different, so every wedding ceremony is different. Love inspires me, as love is felt and shown in so many different ways."
On average, how much do couples spend with you?
"My fixed fee for a wedding ceremony is £495."
What makes your business special?
"My business is special because I am passionate about my couples having the wedding ceremony that they want, and not having to fit with tradition if that isn't who they are. I believe we should all be able to be ourselves, and not have to tick boxes or make compromises because we don't fit into pre-selected boxes. We are all unique, and I will take the time to find out what the couples really want, and create a wedding ceremony for them. I am very fortunate to do a job that I love."
Instagram – @ceremonies_by_dawn | Facebook – @ceremoniesbydawn
Sheron Burt Your Celebrant
Why do we think Sheron Burt Your Celebrant is an awesome Nottingham wedding celebrant?
Sheron is really passionate about her work, she loves to create personalised, beautiful services and it really shows! She'll work tirelessly to create the perfect service for her couples and then bring them together with love, laughter and happiness. What's not to love?
We love what we know about Sheron, but we needed to know more – so we asked her!
Where are you based and how far from Nottingham do you travel?
"'I am based in Daventry Northamptonshire. I cover the East and West Midlands area and am happy to work further afield including destination weddings."
How would you describe your business in 3 words?
"I would say professional, personalised and creative"
Why should you book a wedding celebrant?
"First let me say there are different types of Celebrants, there are humanist celebrants and independent celebrants. Humanist celebrants conduct non-religious ceremonies but independent celebrants – which is what I am! – create and conduct ceremonies with no restriction on the content.
So say, for example, a couple might have different cultures or beliefs …. this would not matter because any religious content, be it prayers rituals, or symbolic elements can be included in their ceremony.
With a celebrant led ceremony, this means that your wedding day will be as unique as you are. From the moment you book me, I will work alongside my couples to captivate their life journey so that I can tell their love story in style. My ceremonies incorporate fun and laughter, whilst still respecting the gravity of this important life event."
What inspires you in your business?
"I am inspired by the people that I meet, the couples and the families who choose me, these couples who trust me and who give me that ooh so important responsibility of creating a ceremony for one of the most important days of their lives. They allow me into their lives, they share their joys and sorrows with me. I get to find out what makes them tick, what they love and what they dislike. I am also inspired by love, because love is powerful and without love there is nothing!"
On average, how much do couples spend with you?
"It depends on what ceremony they are having, in terms of weddings, my fee is £550."
What makes your business special?
"My business is special because I am so passionate about what I do. And that is reflected in the ceremonies that I create. There are no two ceremonies the same. I get to bring family and friends together through ceremonies and I get to share special moments and by the time the ceremony is over I usually end up with two new friends – how great is that!?"
Instagram – @sheronburtyourcelebrant |
Facebook – @SheronBurtYourCelebrant.co.uk
Looking for a wedding photographer?