Kate & Sian's Wedding | September 2022
Raichelle & Michaels wedding was our first post-covid wedding and it was simply the best way to get back into the swing of things! They were due to get married way back in April 2020, just a couple of weeks into the first lockdown, and then after delaying for a full year (which felt like more than enough time for this to be over at the time!) they were unlucky enough to have to postpone by another couple of weeks to allow their wedding to go ahead with more than 6 people in attendance.
After a couple of postponements, and a somewhat changed plan on the day, they were finally married at St George's church in Birmingham. And in spite of the ongoing restrictions, they made it such a lovely day. After getting ready in Studio 142 in Bromsgrove, Raichelle arrived at the church and despite the need for guests to wear masks and them not being allowed to sing it was a beautiful service. A particular favourite moment of mine was when the organist played the Doctor Who theme tune during the signing of the register! These guys had so many different ways of injecting a little of their personality throughout the day.
After the ceremony and a few family photos, we went for a short walk to the Birmingham Botanical Gardens for a short couple photoshoot. As it was so soon after restrictions on weddings had been lifted, there were so many people smiling, honking and congratulating the couple – it was really heartwarming! The Botanical Gardens themselves were stunning and it was great to explore it with them.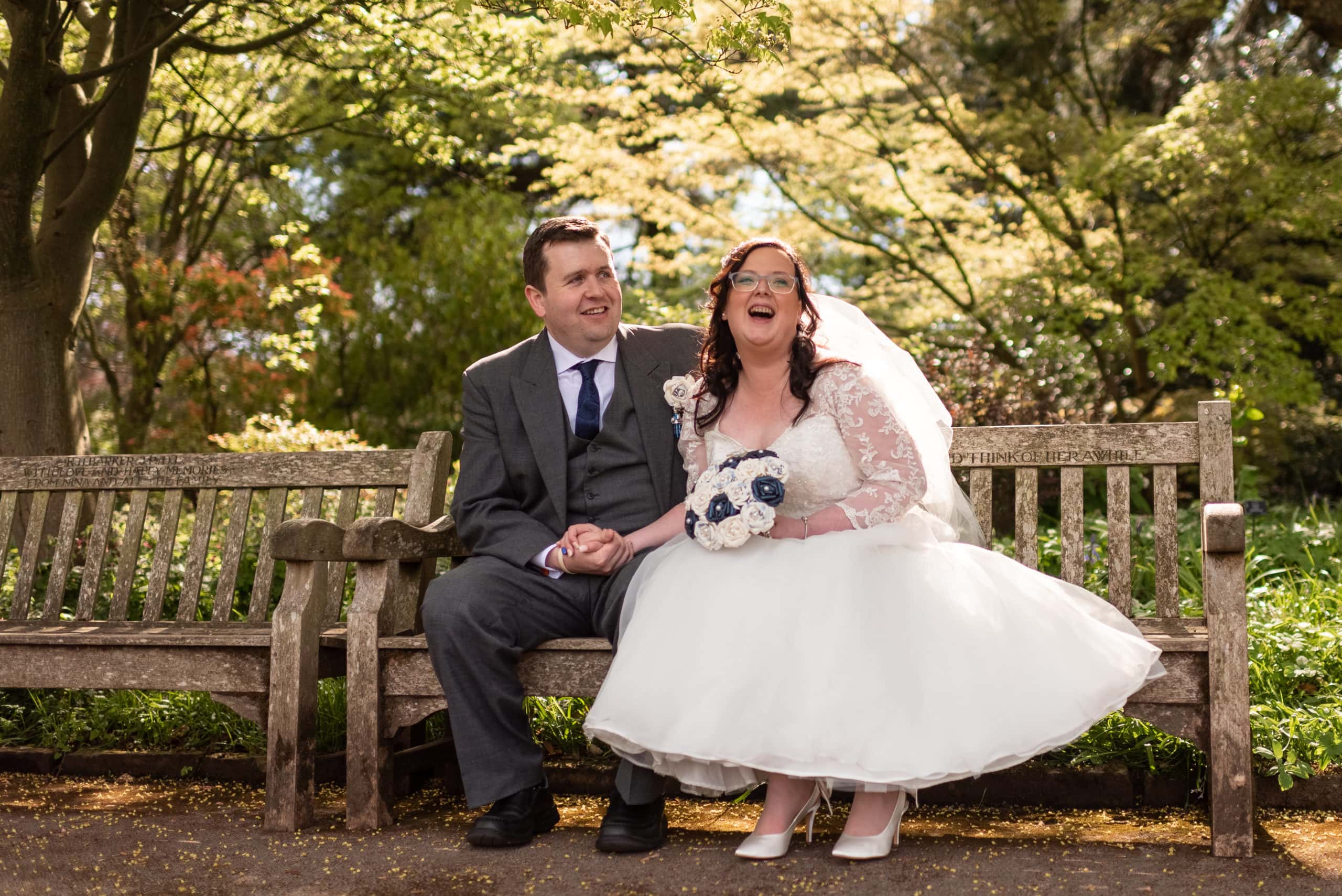 This is where the wedding took a really fun and alternative turn. As they were unable to hold the reception they were planning, they decided to have a 'virtual reception'. What is a virtual reception I hear you say? I know I sure did! Well, it was a reception held over Zoom, with bubbles, speeches, cutting the cake, first dance and even dancing late into the evening!
It was a perfect example of a couple making the most of the situation they were presented with and having an awesome day. From the lego cake and sonic screwdriver on Michael's buttonhole, to the bouquet made from maps of special places in their lives and the hand made lego post box (with the original wedding date on) these guys sure know how to make a wedding personal and meaningful to them and that's why this was such an awesome day.
Thank you Raichelle and Michael for being the amazing couple that you are and putting on this epic day!
Suppliers:
Hair and Make Up – Studio 142 Bromsgrove
Balloons – Beaus Balloons
Dresses – Davids Bridal Uk
Suits – Moss Bros
Flower Bouquets & Buttonholes – Paper Bouquets UK
Awesome, you're still here!
Where next?