How to Organise an Epic Confetti Photo
Some of our favourite, most spontaneous and photogenic moments at a wedding often happen when the couple are just married and is in a flurry of confetti! But how do you go about organising an epic confetti photo? When and where should you do a confetti photograph? How do you go about organising it? And what type of confetti should you use?
Whilst now it's a fun moment for guests to toss confetti in the air, the tradition actually started in Italy when throwing petals or rice at the happy couple was a sign of prosperity and fertility. Today, confetti photography comes in a variety of shapes of sizes and sometimes these don't even involve confetti but other unique and colourful creations – more on that later!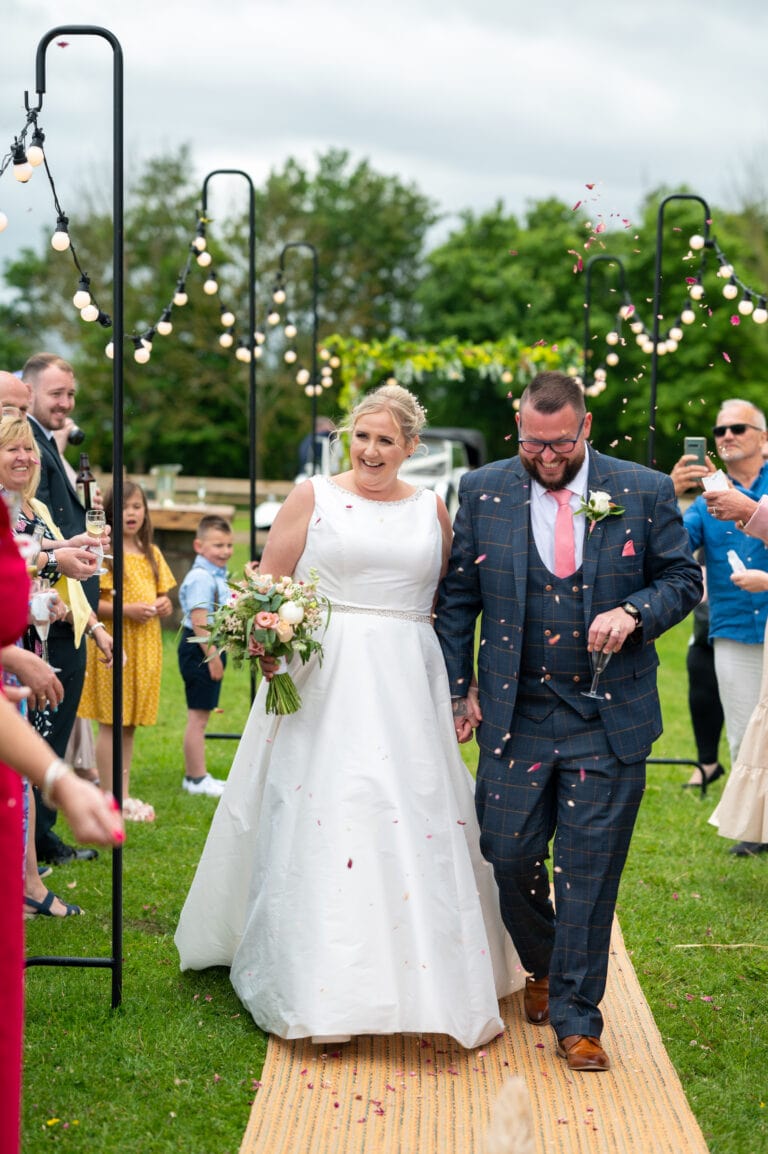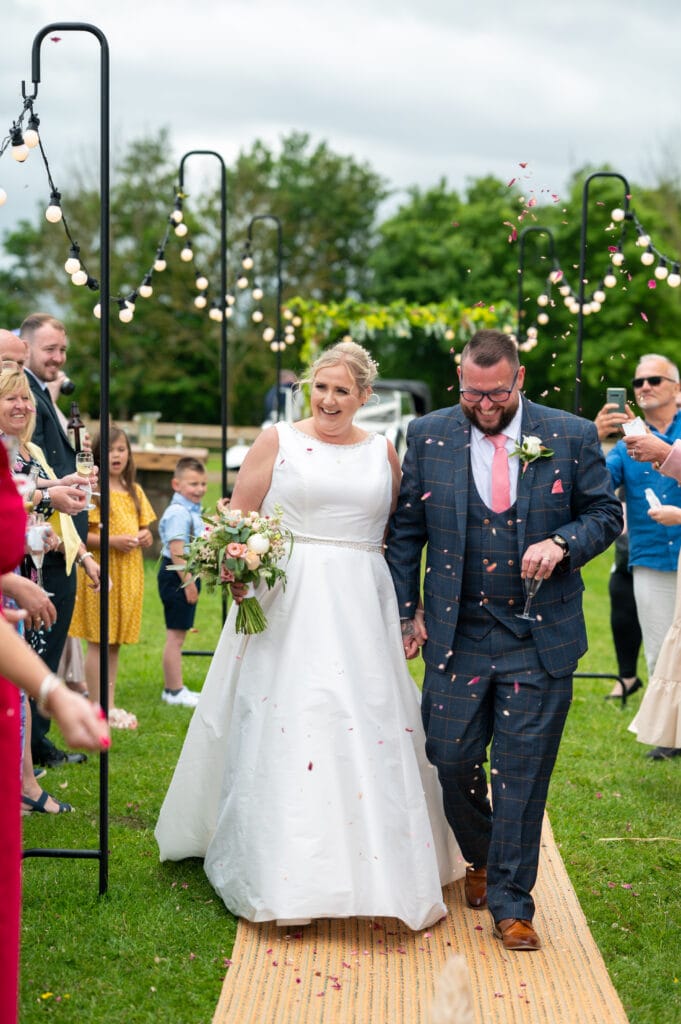 Updated October 2022
When and where should you do a confetti photo?
It's totally up to you, like everything with your wedding, there are no set rules!
The most common time, but by no means the only time, for a confetti photo is straight after the ceremony. For a confetti shot, you typically want all of your guests involved so it's worth considering when everyone will naturally be together. So at the end of the ceremony when you walk back down the aisle or straight after the ceremony are a great times, or shortly before gathering everyone together for a group shot or for dinner. It's also worth bearing in mind that straight after your ceremony people will want to come, say an excited "Hello!" and give you a hug and congratulate you so we often find confetti shots end up being not quite straight after the ceremony but 10-15 minutes later once everyone has had a hug!
It's worth talking your plans through with your wedding planner, wedding coordinator or your photographer – they'll each have a wealth of experience to advise you on the best way of organising the shot.
It's also worth bearing in mind venues may have strict rules on confetti, this may limit where it can be used or even ban it completely. Churches, for example, sometimes ask for it to be limited to a path often just outside the entrance and are sometimes have rules on the type of confetti you use – read on to find out more!
How do we go about organising the perfect confetti photo?
The short answer is – you don't! This is definitely a job for a wedding coordinator and/or photographer. They'll have done this many times before and know the best way of organising it. Although you might want to think about the different options:
The Confetti Aisle:
The most common way, but by no means the only way (and not actually our favourite!), to organise a confetti shot is a confetti line.
A confetti line is often organised upon exiting the ceremony, when all the guests are together. Having exited the ceremony, the photographer or wedding coordinator will organise the guests into two lines whilst someone in the wedding party will give out confetti. Then the couple will walk down the pathway between the guests and be showered with confetti.
You can also add a little bit of your own personality to this by doing something a little different like this couple above who had an electric bike with a bucket (usually used for their shopping etc but also a perfect size for an excited bride!) so decided to use it in their confetti shot!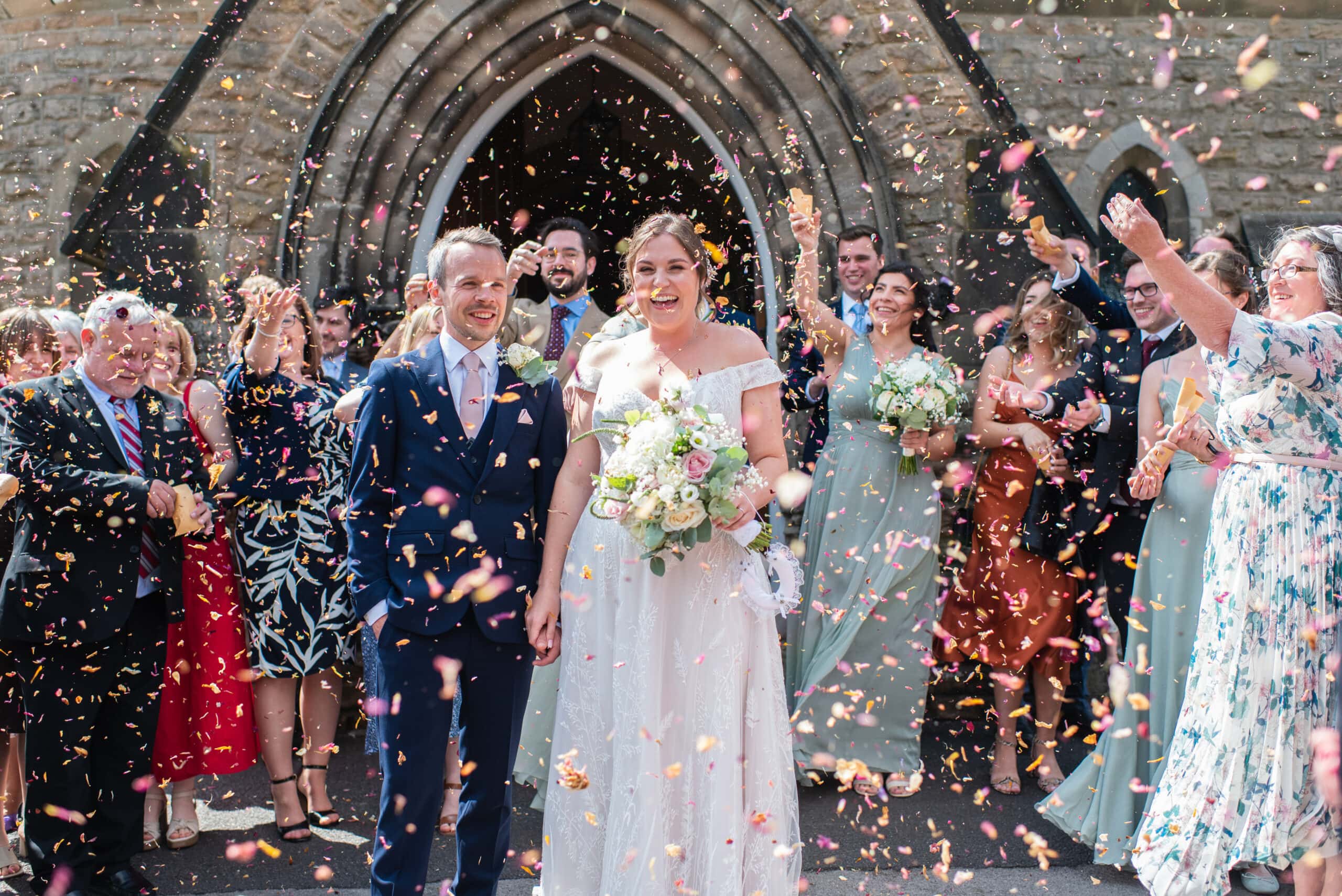 The Confetti Arch:
Yes. Confetti lines are the most common approach. But they certainly are not the only way of creating a confetti shot.
Our favourite approach is actually the confetti arch. This set-up allows for the maximum amount of confetti in the shot which really adds to the excitement. Simply get the guests to spread out into an arch around the couple with the photographer at the open part of the arch. Then the photographer counts everyone down and then they unleash an epic shower of confetti! This is the approach we used on both the photo above in front of a local church and the closer photo below.
The Whole Group Confetti Shot:
The whole group confetti shot is exactly what it sounds like. Get everyone from the wedding together ready for a photograph but give them all confetti and then when everyone is ready the couple gets showered with confetti. This works best (as with all whole group shots) when there is a staircase where everyone can gather allowing the couple to get properly covered in confetti without it having to be thrown a long distance!
This can make for a really fun shot full of colour and laughter but I would recommend having lots of confetti – and bigger pieces of confetti – as with not enough confetti or smaller pieces you may find it harder to see it clearly in the photo.
Beyond that, be creative – we'd love to hear from you if you have any other more creative ideas!
Which type of confetti?
The confetti you throw can come in all colours and shapes, some of which might not actually be confetti but will make fantastic photographs.
There are lots of options for confetti these days, from traditional coloured petals and paper to more creative ideas such as birdseed, bubbles or even sparklers. So which one should you choose?
Petals
Whether fresh or dried, petals can make for stunning natural confetti especially if you have a certain colour, or lots of colours, in mind. You could match them to your wedding flowers or go for the multi-coloured look.
Paper or ribbons
Paper or ribbons are a great way to get the same colourful look but at a much cheaper price. Be aware though some venues no longer allow paper confetti because of the cleaning up that's required and they have a tendency to stain if they get wet – biodegradable confetti is a great alternative which simply dissolves as soon as it rains.
Bubbles
An increasingly popular option with guests – especially kids – is to blow bubbles at you during your exit. These can make for fantastic pictures and ultimately they're a great way of entertaining the kids the rest of the day! Do be careful again on the type of bubble brands you buy though as some brands can stain fabric.
Beach balls
Planning a summer or beach wedding but don't fancy confetti? Beach balls could make for a fun, creative photograph. Again this is another great way to entertain the kids the rest of the day too!
Sparklers
If you're getting married in the winter or are looking for a fantastic way to exit your wedding, then sparklers can make for magical photographic moment after dark. Sparkler photos work best in an area with some light whether that be doing them at dusk rather than in pitch darkness or in an area which is partially lit. It's also worth considering the level of drunkeness both you and your guests will be at! If you leave it until right at the end of the night people will no doubt be rather drunk and drunk people plus fire isn't the best of combinations – it could lead to dresses, suits or hair being caught on fire.
Always make sure you have a bucket of sand or water on hand to safely extinguish the sparklers (plus someone sober enough to check that's done!)
Like our vibe?
Where next?