FUN, CHILLED-OUT WEDDING PHOTOGRAPHers in Nottingham
So, you want unposed images that capture the full emotion of your day in a fun, fuss-free way? Maybe you're not keen on having your photograph taken at all? We're Dave Fuller Photography, Nottingham wedding photographers who specialise in creating chilled-out, joy-infused images and videos, from those early morning butterflies to those joyous 'we did it!' post-ceremony air punches. Never contrived or posed, we go with your flow, discreetly documenting all those beautiful blink-and-you'll-miss-it moments.
Want to know more? Come on in and have a nosy.
WHY THIS NOTTINGHAM WEDDING PHOTOGRAPHER?
Hello! We're Dave and Amy Fuller, a wedding photographer duo based in Nottingham. We've been shooting weddings in a light-hearted photojournalistic style at venues across Nottinghamshire, Derbyshire and beyond for over seven years.
Our love for wedding photography grew from our own wedding experience. Bombarded with wedding traditions at every turn, we set out to transform the numerous 'shoulds' we encountered into 'coulds'. Including shaking up the traditional wedding photographer's formula – goodbye achingly long group shots and toe-curling poses, hello fun, shoot from the hip, unique wedding photography!
Like us, our photography style is chilled-out and fun. Like photography ninjas we mingle and move amongst you and your guests, quietly capturing the heart-jangling and humorous moments that matter; the look when you see each other for the first time, your loved ones' wide smiles as you say your vows, your littlest bridesmaid spontaneously high-fiving the vicar. The images that pack a real visual punch and allow you to re-live each delicious moment.
Of course, we'll happily whisk you away briefly for some gorgeous couples' portraits and take group photos of your special folk. But otherwise, we're hands-off, leaving you to soak up every minute of your glorious day.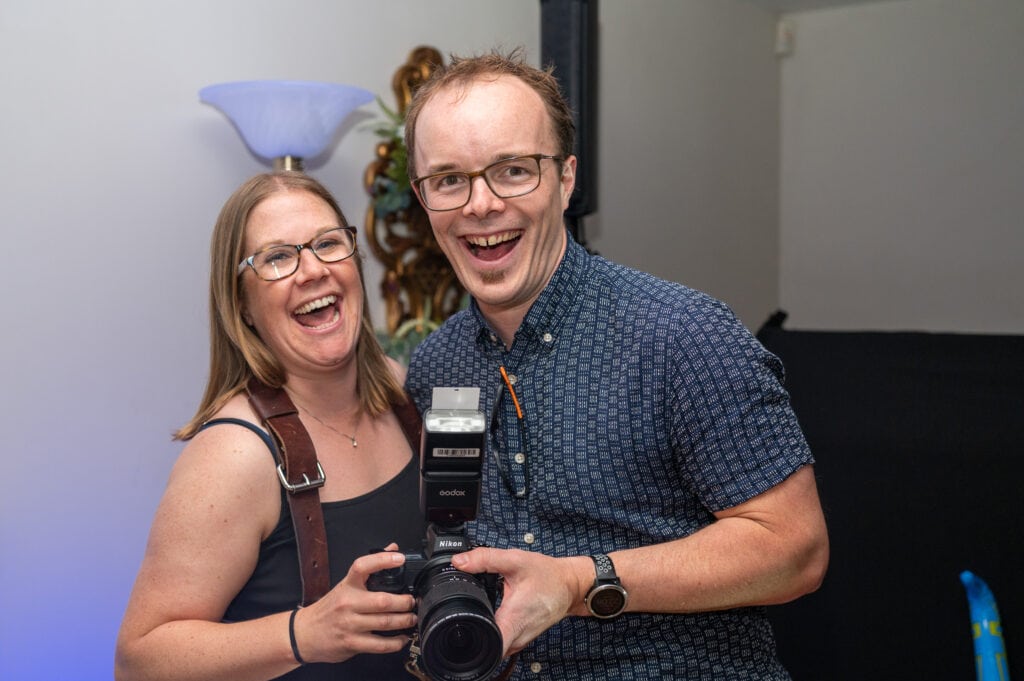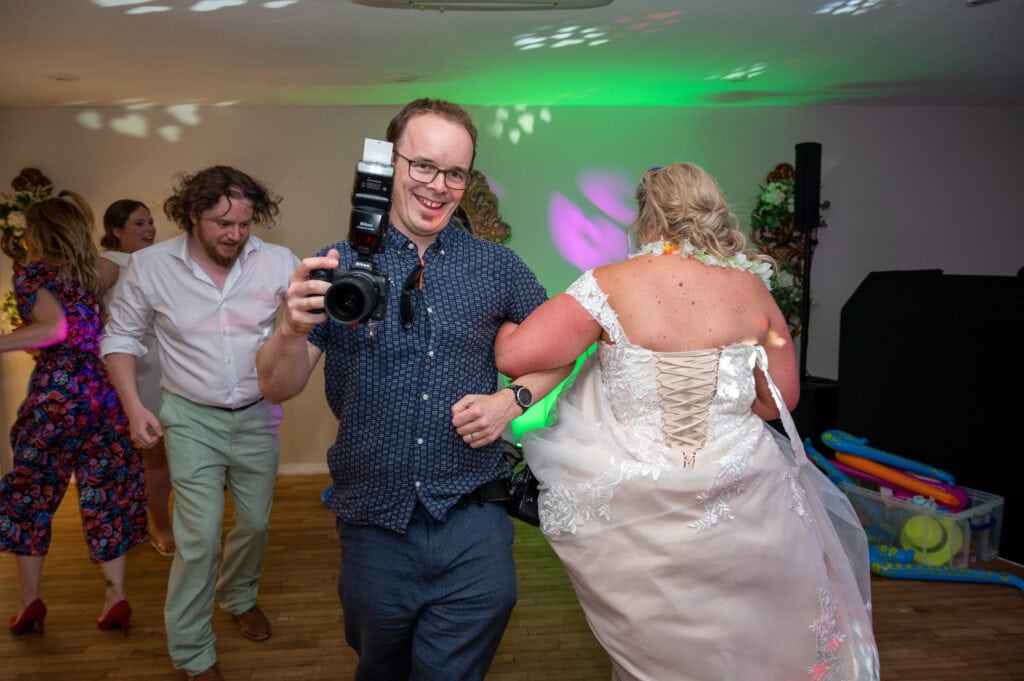 WE'RE THE PERFECT NOTTINGHAM WEDDING PHOTOGRAPHERS FOR YOU IF…
You want timeless, beautiful images brimming with energy and emotion
You want a wedding photographer that gets you and goes with your flow, discreetly capturing each magical moment as it unfolds
You want someone to document your entire day (not grab their coat after the first dance) from bridal preparations through to goodbye bear hugs
You plan to have children of all sizes at your wedding – we are fluent in Kid which makes for epic shots of children doing stuff (skidding onto the dance floor is just the beginning!)
You like doing things your way – an outdoor wedding in a woodland glade? An epic bridal entrance powered by balloons? A show-stopping exit ceremony with live mariachi band? Awesome! We're fans of doing things a little differently too.
COULD WE BE 'THE ONE'?
Well obviously not the one, as hopefully, you've nailed that part. To make sure we're the right fit for you, follow these simple steps:
Have a good look around our portfolio. Like what you see? Can you see yourself in these images?
Peek at our pricing. We've laid it all out for you so there are no surprises, just simple, straightforward, affordable wedding & elopement photography package prices.
Confirm our availability. We tend to get booked months in advance and because we like to give our all to every couple, we only take on so many weddings a year. If you've got a date in mind, get in touch.
Finger's crossed we're free! We'll drop you a line asap to arrange a time to chat through your plans and the phenomenal photos we can create. Whether you prefer face-to-face over a nice cup of tea (Dave loves tea. And cake), phone chat or Zoom, we're easy.
Like what you see and want us to shoot your big day? Payment of a small deposit confirms your booking and reserves your date!
Ready to get started? To check our availability, get in touch here.
KIND WORDS FROM HAPPY FOLKS
CHECK OUT OUR WEDDING PLANNING ADVICE
As a wedding photographer, I know that preparation and planning are absolutely essential for the smooth running of a wedding and having a wedding day timeline is one key part of that. But, unsurprisingly, the majority of couples haven't organised a wedding before, so where to start? Check out our guide to planning a wedding day timeline.
Looking for an awesome photographer for your wedding? Look no further!