price & info
YOU WANT BEAUTIFUL UNPOSED IMAGES BRIMMING WITH ENERGY & EMOTION
You want a wedding photographer that gets you & goes with your flow, discreetly capturing all the shenanigans as they unfold. And you want someone to document the entire day who fits in with your mates. Not be clock-watching until they can run off home.
YOU LOVE DOING THINGS YOUR OWN WAY
An outdoor wedding in a woodland glade? An epic bridal entrance powered by balloons? A show-stopping exit ceremony with live mariachi band? Awesome! We love it when couples do things a little differently.
YOU PLAN TO HAVE AN EPIC PARTY
Weddings aren't all about smushy romance. You want to have an epic party and have a great time with your friends and family!
Why might you want us at your wedding?
We're fluent in 'Kid' – having worked as a teacher for far too long, Dave is fluent in Kid and awesome at capturing those cheeky smiles right through to sliding across the dance floor in their socks!
You won't notice we're shooting – but we are! So many of our couples comment on how their guests didn't realise we were there most of the day and just blended in with the rest of the guests.
We've shot a lot of weddings, we know what works and what doesn't so drop us if you need tips on what does (and doesn't!) work drop us a message and we'll sort you out!
PRICING
So, let's get to the nitty-gritty, how much?
We help fun-loving couples, like you, preserve precious memories from their wedding day. We'll fade into the background and capture those special moments of you, your friends, and your family.
We keep things simple, for a single price of £1,500 you get Dave as your photographer documenting your wedding day*.
This includes:
Fun, chilled-out photos of your wedding day with no cringe-worthy posing, from morning prep through until the evening – this is usually a few songs after the dancing begins.
An hour-long engagement shoot within 30 minutes of our house in Nottingham. This is perfect to get to know each other better and get some awesome shots that will make personal save-the-date cards or invitations. Although we know this isn't for everyone, so no pressure!
As much wedding advice and supplier recommendations as you need. Need to bounce some ideas of someone? We've seen it all! And if we can't help you out, we'll send you to someone who can!
All photos in an online gallery, where you, your friends, and your family, can view, share and download photos, and order prints.
All travel expenses across the UK – no sneaky add-on costs.
Add any extras as it suits you: second photographer (Amy); 5-minute highlight videos; save the date or thank you cards; a keepsake presentation box; and, print packages galore! Want to know more? Drop us a message and we'll send you our wedding photography brochure.
£1,500
* We also offer shorter coverage for off-peak weddings (November to April) starting at £300. If that's something you're interested in let us know!
"Dave & Amy are just such lovely people. They blended into our wedding effortlessly & made us feel so comfortable throughout the day. They had some creative ideas for photos and took lots of natural photos.
We 100% recommend Dave Fuller Photography!"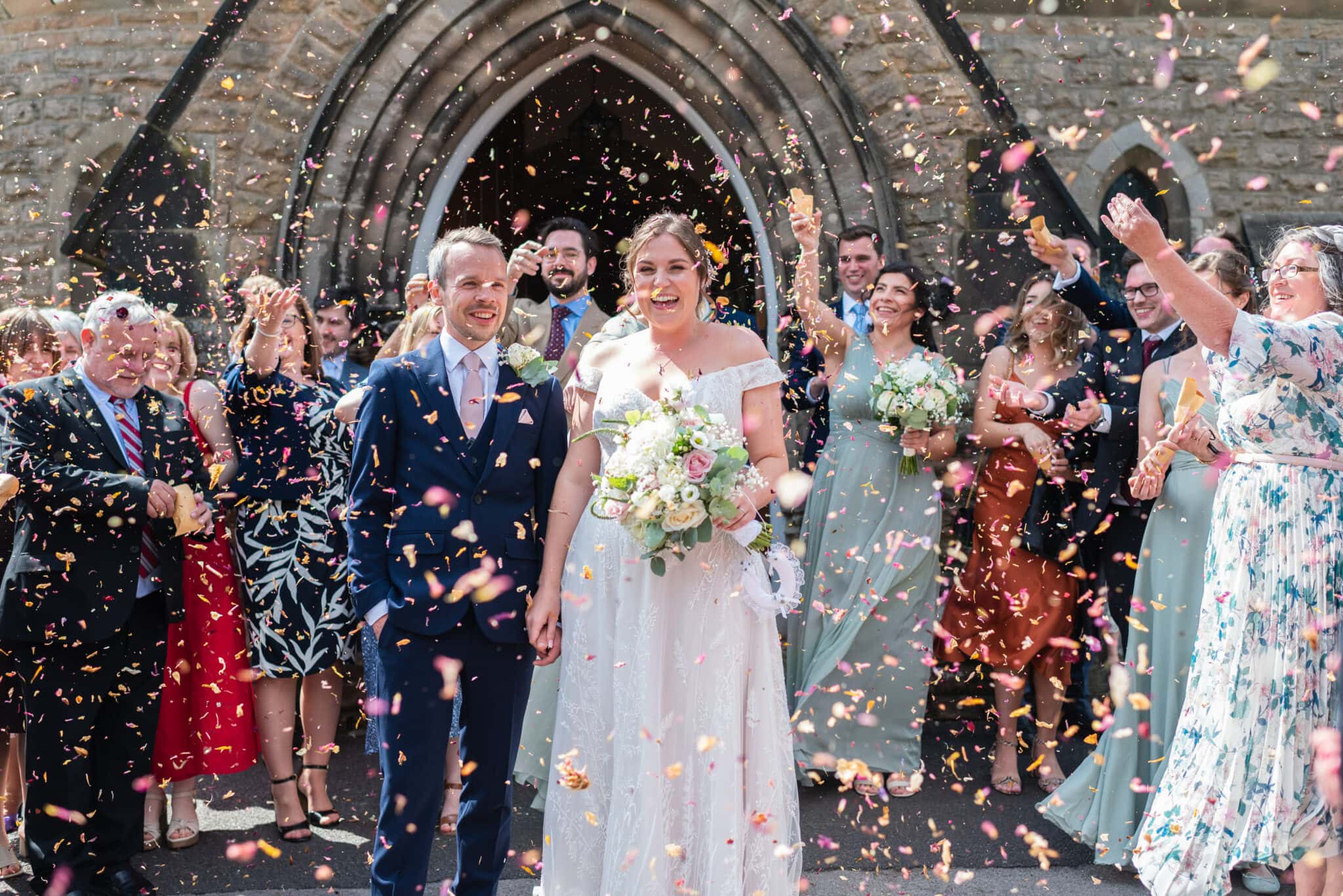 FAQs
DO YOU ALSO DO VIDEO?
Yes, we do! We offer 5-minute highlight videos including audio clips from the speeches and/or ceremony. These are set to music and you can find out more here.
HOW FAR WILL YOU TRAVEL?
Our time and travel within the UK is all covered within our price but we're happy to travel wherever, so if you're getting married in Hawaii and want to fly us out – that sounds awesome to us!*
*it will cost a little extra to take us to Hawaii!
DO YOUR WEDDING PRICES INCLUDE TRAVEL OR IS THAT EXTRA?
Yes! All our travel within the UK is covered so there's no extra hidden fees to worry about.
WHAT ARE THE BENEFITS OF HIRING A SECOND PHOTOGRAPHER?
Dave will get a lot of great shots but hiring a second shooter (the lovely Amy) means you get more great coverage from different perspectives. For example, along with capturing your partner's reaction when they see you for the first time, we record your guests' expressions too. If the couples preparations are in different locations, it means we can capture the fun goings-on in both camps too.
AS A
DOCUMENTARY PHOTOGRAPHER
, WILL YOU STILL TAKE GROUP SHOTS? IF SO, HOW MANY?
Yes absolutely, we know that family group shots can be boring, we've all been to those weddings, but we also know that your mum or granny will want them – trust us! So, of course, we offer them. But, we'll make them quick so everyone can get on with partying!
WILL YOU TAKE PHOTOS OF JUST THE TWO OF US?
This is up to you. Some couples want perfectly polished, film-like photographs which take time to set up, while others don't want any at all. We say the sweet spot is somewhere in between. The best time is often after the service. We can whisk you away for 20 minutes to chill and take some beautiful natural shots of you both. The post-service high is real!
WHEN CAN WE SEE OUR WEDDING PHOTOS?
We know you'll be itching to see them, so we'll post a 'sneak peek' to our Facebook and Instagram accounts within a couple of days which we'll also share with you in an online gallery. Then Dave will get cracking on editing the good ones (nobody wants that one of you half blinking!) and it typically takes around six-eight weeks to edit and send your final photos.
WHAT HAPPENS NEXT?
Check our availability. If you've set a date, get in touch and we'll let you know within 24-hours if we're free.
Arrange a chat. If we're available (fingers crossed we will be) we'll arrange a time to chat about your wedding. We know some lovely local cafes and bars, or if you're super busy or a little further afield we can chat online.
Let's chat. About you, your wedding, and your photography wish-list. This is a great way to check we're a good match and that we're going to get along.
Booking.

Ready to book us for your big day? After signing a contract and paying a small deposit, we'll officially confirm your booking and reserve your date. Next stop, wedding-ville.
Are you ready to do this?