The Council House Nottingham Wedding Venue Guide
The Council House, Nottingahm, is an iconic Nottingham landmark right in the city centre. If you're looking for a city centre wedding venue, look no further. From small intimate ceremonies all the way up to hiring one of the larger room such as the Ball Room, or The Dining Room for your wedding and reception. It truly is a stunning location.
It's absolutely one of my favourite local venues and so I've included it in my guide to the Best Wedding Venues in and around Nottingham.
In the summer of 2019, we had the pleasure of photographing Chloe and Craig's wedding at The Council House, Nottingham.
Click here to jump to their story.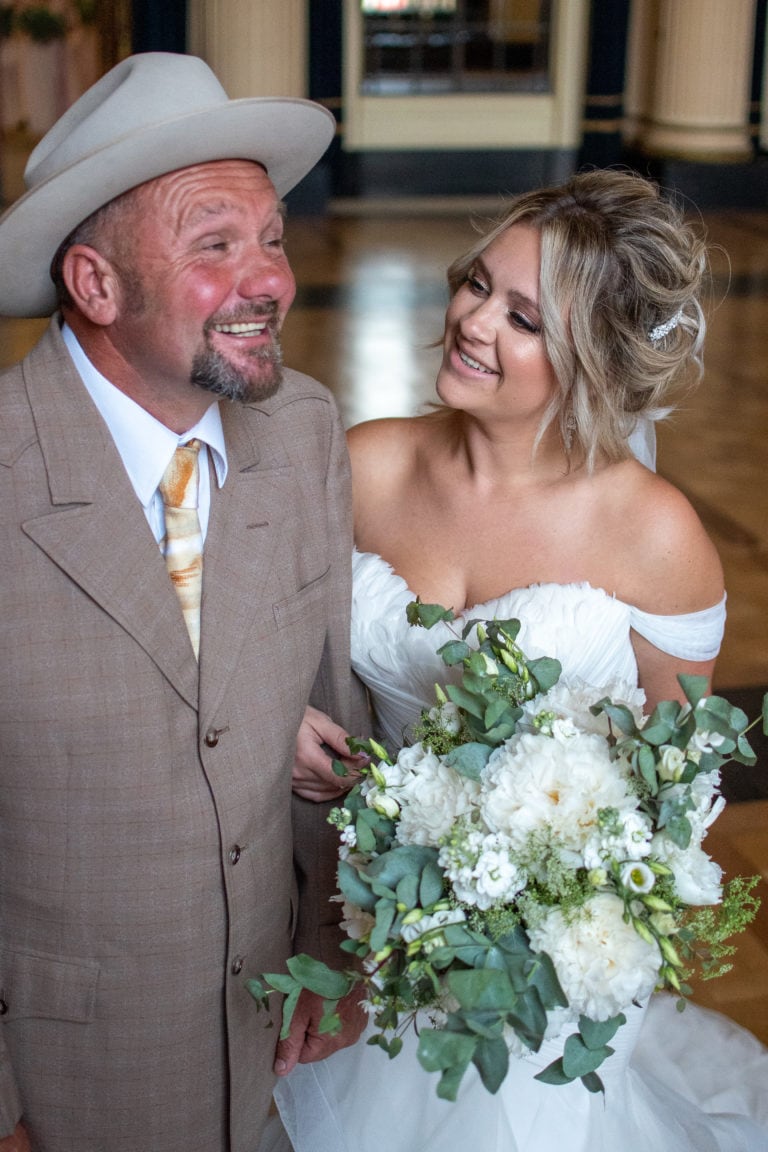 Essential Information:
Where is The Council House, Nottingham Wedding venue?
The Council House is smack bang in the middle of Nottingham city centre. If you've ever walked through the centre of Nottingham, you'd recognise it as the grand looking building in the market square opposite the fountain, with two giant stone lions, incredible pillars and of course the clock tower above.
Address: The Council House, Old Market Square, Nottingham, NG1 2DT.
What's the history of the venue?
The Council House in Nottingham was commissioned to replace the former Nottingham Exchange, it was designed by Thomas Cecil Howitt in the Neo-Baroque style and was built between 1927 and 1929. Housed within the belfry is the affectionately known "Little John" hour bell, which is the deepest clock bell in the UK and can be heard for seven miles throughout Nottingham.
Throughout the years, the building has played home to many spectacular occasion, welcoming royalty, statesmen and women as well as both the FA Cup and the European Cup which have both been lifted from it's balcony.
As of April 2011, the building took on a new role, serving as the primary Register Office for Births, Marriages and Deaths in the City.
How many guests can The Council House, Nottingham Wedding venue accommodate?
There are a range of options at The Council House, for those just looking for a ceremony location to those planning to house the full ceremony and wedding reception there.
For the ceremony, the largest ceremony room is the Ballroom, which has a capacity of 150 and can also play host to your wedding reception. And then there are the slightly smaller Dining Room, Members Lounge, Tea Room and Lord Mayor's Parlour, which have capacities of 100, 50, 50 and 40 guests respectively, which all have stunning wooden floors and paneling as well as stunning period features. And finally, they even have three separate options for a more intimate wedding all the way down to the smallest room – the Snug – with a capacity of just 6.
How much does it cost to get married at The Council House, Nottingham?
Wedding ceremony:
For the ceremony itself, the cost depends on which room you choose. The cost of the Snug is just £125, whereas hiring the Ballroom cost £365.
Note: There are other standard fees involved as there would be for any legal wedding ceremony, such as the notice of marriage, certificate of marriage, and attendance of a registrar. You can find out more information about those here
Wedding Receptions
As I mentioned, as well as ceremonies you can hold your reception at The Council House, Nottingham. You can take advantage of the elegance of the Ballroom and Dining Room from 4pm until midnight for between £1,500 and £1,700 depending on the day. Pre-drinks are also available (charged separately).
Alternatively, for a smaller, more intimate wedding reception the Tea Room or Members Lounge can be hired for a ceremony followed by an intimate reception in the Dining Room for the cost of £1,000.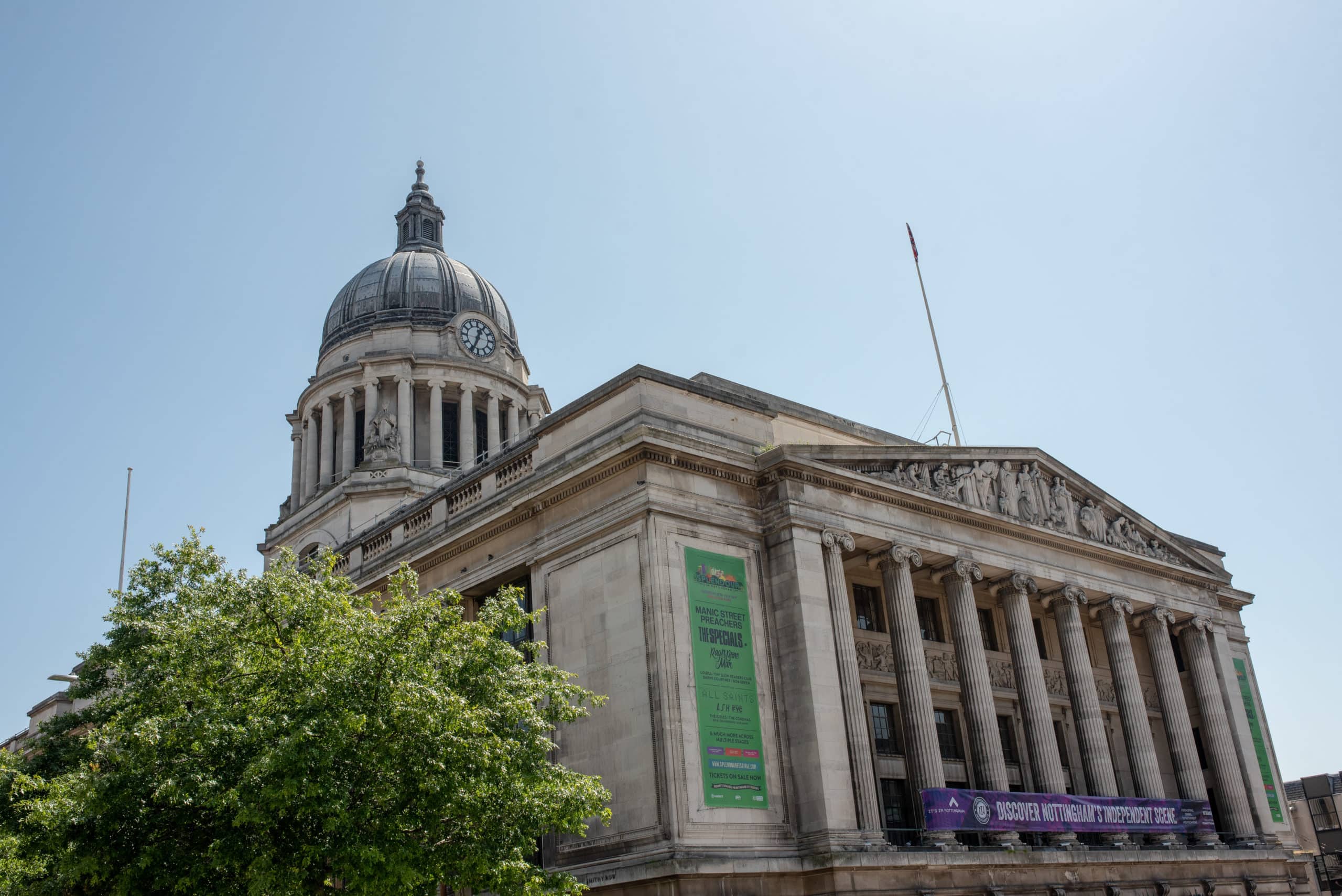 Is there parking available at the Council House, or nearby?
Whilst there isn't any dedicated parking on site, being in the centre of the city there are plenty of city centre car parks available (The Lace Market, Upper Parliament Street, St James Street car parks are the closest). Although these can become rather busy so it may be wise to prebook your parking slot.
Wedding cars are allowed special access down Cheapside Road at the south of the Council House.
Is the venue accessibility-friendly?
Throughout the building lifts and ramps are available but it may be worth checking in with staff before the day if you have any particular needs or want to make sure that any of your guests have all the information they need in advance.
What's the deposit and booking process at The Council House, Nottingham Wedding venue?
You will be asked to pay a deposit for your ceremony when you book. The balance will then need to be paid before the ceremony date. This deposit is nonrefundable.
Can I have a reading at my ceremony?
Yes, although as it is a civil ceremony no religious connotation is permitted by law. This includes any imagery such as trinity candles, crosses on the walls or religious text. Religious practices such as blessings, prayers, or religious music are also not permitted. Within your ceremony slot, there is time for up to two reading.
Can I bring my own music?
Yes, they suggest bringing your music for you on the day in the form of a CD. And it's best to check this will play on a CD player and is in the correct format (not a DVD). A small selection of classical music is also available if you forget your music.
Can I throw confetti at The Council House in Nottingham?
Unfortunately, for health and safety reasons, and as a courtesy to other wedding parties, the throwing of confetti or rose petals are not to be thrown inside or outside the building and balloons are not permitted inside the building.
How long will the ceremony at The Council House last?
The ceremony will be around 20 minutes long.
Is there accommodation available The Council House, Nottingham Wedding venue, or do you have any local recommendations?
Being a city-centre venue there is a whole host of local accommodation available from well-known hotel chains such as The Hilton, Ibis, and Premier Inn to hostels such as the Midtown Hostel and of course a whole range of AirBnB's.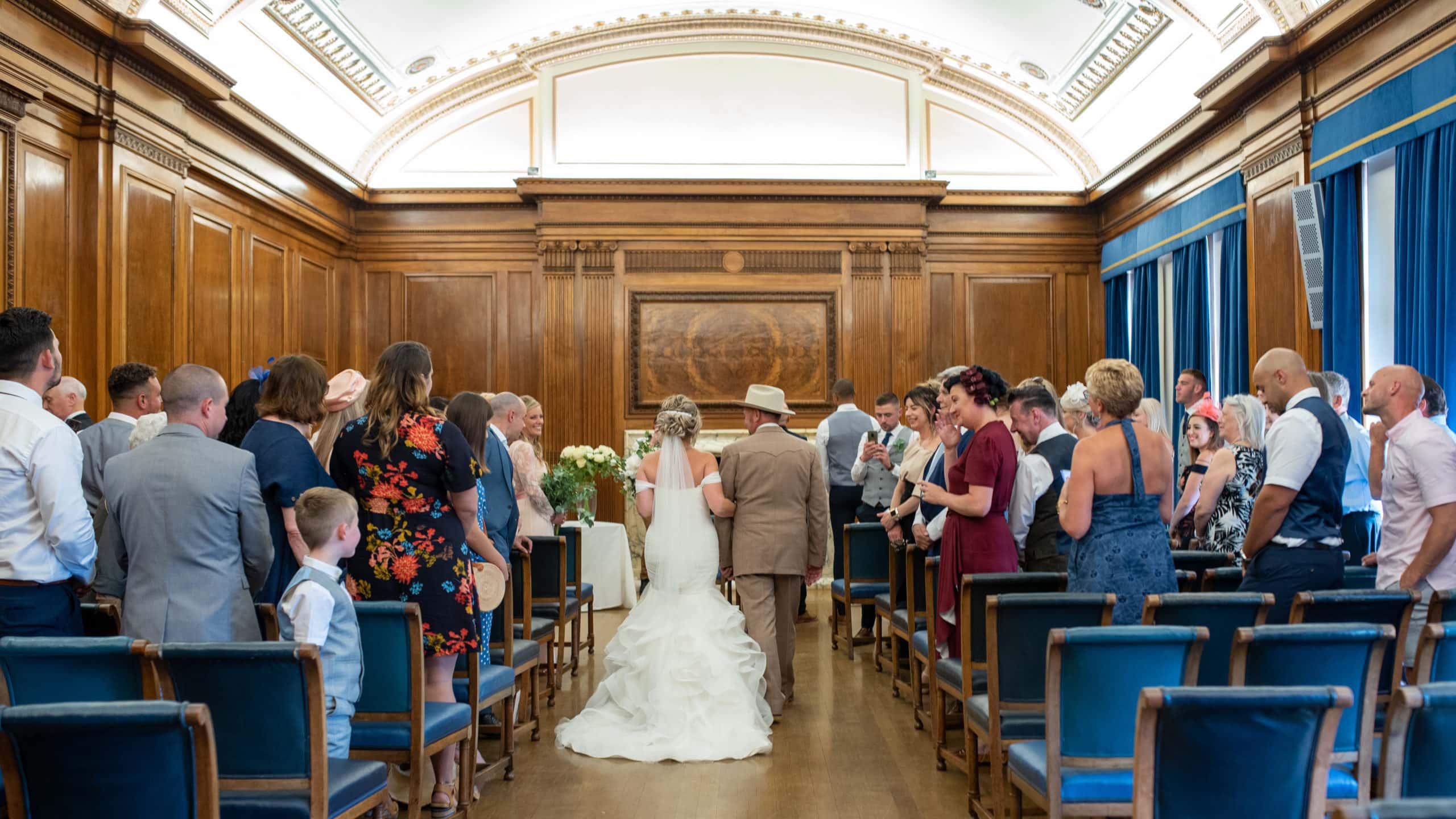 Tips from a photographer (me!)
My first tip would be have a good look around all the rooms, so you can really think about which ceremony room option is best for you. Of course it will depend on the size of your guest list but you just might fall in love with one of the rooms and find yourself adapting that guest list to suit!
In terms of photography, I'd say it's worth noting that whilst the front of the Council House is stunning, it is likely to be busy outside, especially if you've got your wedding booked for a weekend. This is just the nature of a city centre wedding. Of course, it is up to you whether that bothers you. That being said, the grandeur and elegance of the inside absolutely make up for it. The central staircase makes for a stunning photograph of your full wedding party, and the rooms have large windows letting in a lot of natural light which is great for small group or couple's photographs.
How do I get in touch with The Council House, Nottingham Wedding venue?
Website: www.nottinghamcity.gov.uk/council-house/weddings
Contact: www.nottinghamcity.gov.uk/council-house/council-house-get-in-touch
Looking for a Council House, Nottingham wedding photographer?
A REAL COUNCIL HOUSE NOTTINGHAM WEDDING:
Chloe and Craig's wedding at The Council House, Nottingham, and the Risley Park Pub
A couple of years ago, we had the pleasure of photographing Chloe and Craig's wedding. They had a stunning day, celebrating across three lovely venues in three counties with their two sweet boys, family and friends. With the weekend weather suddenly jumping up to 30 degrees. it was hot, hot!! But they were absolutely cool and calm about the fact their day ended up being an absolute scorcher.
The ceremony was in the (thankfully cool) grand Council House in Nottingham, followed by a drinks reception at Hemington House, a private, family-owned home in Leicestershire with beautiful gardens. This was followed by the wedding breakfast, live music and party at The Risley Park pub in Derbyshire. To get between the venues they hired a wonderful red bus which transported their guests across the counties.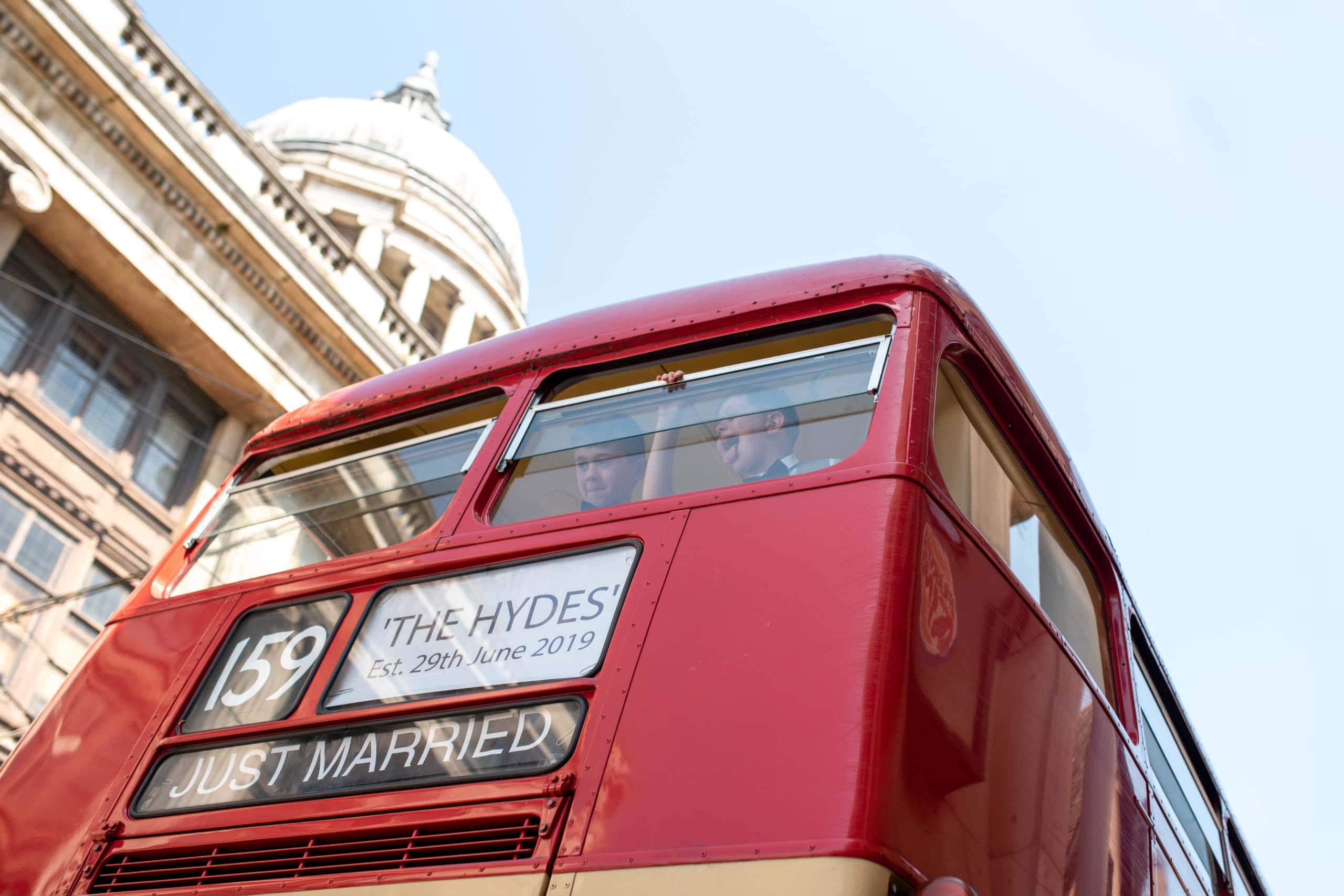 We like to get to know our couples, find out the story behind their big day and share more with you so you can see our style of photography at weddings, and hear about it from the bride and grooms perspective. Here's a fun little interview we did with Chloe about how they met, got engaged and her favourite moments from the wedding. She also tells us all about that incident with the camper van….
First things first, how did you two meet and how long have you been together?
Chloe – "Craig actually knew who I was when we were at school. We went to different schools in the same town & he knew who I was through friends of his but I didn't know who he was. We didn't actually meet until, I believe it was New Years Eve, 10 years ago at a local club that used to be open in Long Eaton called Credos and we met there. We didn't start officially get together as boyfriend and girlfriend until the following July.
We wanted to get married on our 10 year anniversary of getting together but that fell on a Monday, and no one wants to go to a Monday wedding, so we went for the next best thing which was the Saturday before.
So yeah, 10 years together!"
How did you get engaged?
Chloe – "Craig proposed to me on a beach, when we went on our first family holiday after we'd had Spencer. Well it was supposed to be our first family holiday but unfortunately Spencer got chicken pox the week before we were supposed to go so he wasn't able to fly. So, that meant that me and Craig were going on our first holiday together just he and I.
We'd gone out for a drink, and he surprised me, down on one knee when I'd turned around, on a nice evening. That was 8 years ago in Fuerteventura."
Did you see each other before the wedding? If not, did you like waiting or would you rather have done it differently? Tell me why or why not!
Chloe – "No we decided to do it traditionally and not see each other. On the day before the wedding I stayed with my bridesmaids at one of my best friends house's. So we didn't see each other until we were at the end of the aisle. I think it's really nice that we did it like that. It was exciting. Felt like we'd not seen each other for a long time."
What was your favourite moment(s) from the wedding?
Chloe – "My favourite moment from the wedding was the ceremony itself. I thought I'd feel dead nervous but I didn't in the moment, I felt very confident and just happy. Not overly emotional which I'd worried about – blubbing everywhere – but I was absolutely fine."
"It just felt like there was no one else in the room, except us, at that moment. It was perfect!
— Chloe
Tell me about your dress. Where did you find it, how did you choose it, how did you know it was the one?
Chloe – "The dress? The main dress. Like all brides to be, when the date was set I was browsing through Pinterest, not really sure what I was looking for and this dress came up. And I was like, "Oh my gosh, THAT dress. I need that dress!"
I found out it was from Pronovias, a fairly high end dress maker. I thought there's no way I'm going to be able to afford this. But, I tried and I kept looking and, believe it or not, I actually got it from a lady who was selling it online and had basically changed her mind but she'd already got it altered in length and, luckily, she was the same height as me. So, I got for an absolute bargain price! Otherwise it would have never been financially possible to have it. I'm a great believer that that dress was meant to be in my life.
So, because I got it for a bargain price I had the option to add a few bits to it to make it bespoke to me. I had the bardot sleeves added, obviously it needed altering and I had the satin buttons put in all down the back. The dress was a dream, apart from the fact it was very thick dress and it ended up being 30 degrees on the day so I was absolutely melting! But you can't plan all these things can you."
I'd love to hear about vendors! Who did you particularly love, and why?
Chloe – "Vendors wise, we loved all of them. But I think Lily Monroes, who did all our hair and make up in the morning. Apart from doing a fantastic job and making us all look incredible, Danielle was very good at calming my nerves. I say nerves, maybe not nerves but I was really anxious as you can imagine, didn't have much sleep. I think I got three hours tops and she just help me deal with those morning nerves, which I'll be forever grateful for. So Lily Monroes were a standout on the day."
She has also commented on the incredible design and creation of their wedding cakes, from Yumcake by Gosia. Which were a perfect mix of intricate design and elegant simplicity (I've also been told they tasted delicious!)
Did you make anything for your wedding?
Chloe – "Yes, we (well, mostly I!) made lots and lot and lots and of things for the wedding decor-wise. We decided to make our own invitations, obviously to save money so we could spend money in other places, for example hiring the bus, which wouldn't have been possible if we hadn't cut costs. So, we made all the invitations, places setting names, the centrepieces for the tables including the top table, made the seating plan and a 'Welcome to our wedding' sign."
Would you do any of those DIY things again?
Chloe – "I'd definitely do it all again. The amount of money we saved it was definitely worth it and the majority of it was enjoyable too. It really gives it that personal touch and it just gives a different level of pride. As well as planning what the venue is going to look like when you physically made a lot of elements of it, it made me feel very proud when people said it looks beautiful. And it definitely made it worthwhile all the hours I put in."
What's one piece of advice you would give to other couples planning their wedding?
Chloe – "Advice I'd give to other couples…if you're on a budget, well obviously everyone is on a budget, if you're on a smaller budget then try and make things yourself. Do research and don't be scared to negotiate, as you know many places add a premium when you say it's a wedding. I'm not going to lie, a few things I didn't even tell them it was a wedding I just said it was a party! That saved me a lot of money."
What photography-related advice would you offer to other couples?
Chloe – "Photography-related advice would be definitely do lots of research! Recommendations from people you know is a big one, anyone who's actually worked with them. And going for a pre-wedding shoot is great to see if you gel. The photographers are obviously a big part of your day and it's good to have a level of rapport built with them beforehand which we definitely felt we did with Dave and Amy. So, my main advice would be to get that pre-wedding shoot to see if it's a match!"
We almost forgot to mention the campervan! What happened to that?
Chloe – "So we were driving in convoy, in a white Range Rover and the girls were in the campervan and Glenn (my friend who was driving the Range Rover) gets a phone call from Rod who was driving the campervan. He just said "It's gone mate, it's gone!!" There may have been a few swear words from the both of them! Then, because we were on time, with not much time to spare, so we couldn't have stopped if we wanted to. Although we actually broke down on the Clifton flyover, which is a single lane flyover without a hard shoulder or anything. So there couldn't be a worse place to break down really.
We were probably 5 or 10 minutes away from the venue. So the plan was Glenn would whizz me into town and I'd hide in a shop or something and Glenn would nip back and get the girls. But the girls took the initiative and flagged down a couple of really kind strangers within a couple of minutes. They gave them a lift and it was then pretty much straight in and straight down the aisle!"
Oops! Luckily everyone arrived in time and no-one at the venue (including us) had noticed. Thank you to Chloe for sharing your thoughts behind your day, wishing you and your boys health and happiness for years to come!
Looking for a wedding photographer?
The wedding suppliers:
Ceremony venue: Nottingham Council House, Nottingham
Drinks Reception:a private family house
Wedding Breakfast and party: The Risley Park pub, Derbyshire
Dress Designer Pronovias (main dress) and Kaleidoscope (evening dress)
Hair/Makeup: Lilly Monroes (Canning Cambers, Nottingham)
Bride's shoes: Giuseppe Zanotti
Suits: Red Herring at Debenhams
Waistcoats – River Island
Bridesmaid's Dresses: Little Mistress, each bridesmaid customised their dresses to make them bespoke.
Florist: Buddies, Castle Donnington, Leicestershire
Cake: Yumcake by Gosia, Nottinghamshire
Caterer: The Risley Park Pub, Derbyshire
Bar Services: The Aplary at Castle Donnington
DJ: N-Genius Events
Band: The Verzions
Transportation: Vintage Vehicle & London Bus Hire