How to start planning a wedding | Wedding planning guide
You're engaged, that's awesome! But how do you start to plan a wedding?
We know how hard it can be. Staring at that blank piece of paper.
"What comes first?"
"I've never planned anything like this before!!"
"What do I do?"
"What comes first?"
Don't forget to enjoy it!
Enjoy being engaged. Tell your parents, and your Gran before social media. Tell people you're romantic/ exciting engagement story (if you have one) or how excited you are about your wedding. Throw a party, have celebratory drinks and just generally enjoy being engaged for a few weeks before you get lost in a world of spreadsheets, budgets and venue visits.
This stage is so important, we wrote a whole blog about 9 things not to do when you get engaged. To summarise, essentially it says to enjoy it, don't stress and don't sign yourself up to anything yet. You can read the full blog here.
Once you've thoroughly enjoyed yourselves and are ready to start wedding planning, move onto step 2, and bring tea, cake or wine!
How do you decide your wedding budget?
There's no denying it, wedding can be expensive but they don't have to be. Whilst it's not the most glamorous part of a wedding, you absolutely need to figure out your budget early on, this way you can be sure how best to spend it. Talk with your partner and parents and anybody who might contribute to your wedding to figure out how much you will have to spend. This will influence everything in your wedding planning journey from the venue and photographer choice all the way to choosing your flowers and make-up artist.
Once you've decided on a total budget, it's time to think about how much to allocate to each service. Firstly, take about 10% of your budget, and leave it to one side as a contingency. This will cover anything that unexpectedly crops up (and there'll probably be something!). The week before our wedding, we had a last-minute need for extra portaloos (glamorous right!?) as we were let down by a supplier so the extra money was essential.
After that, split your remaining budget in half, this is the amount you can spend on your venue(s). This should include the venue itself as well as catering, wine, cocktails and other drinks. Then you need to consider your priorities, this will determine where you spend your remaining budget. If you're passionate about an amazing alternative bouquet, an incredible dress or that perfect band, then you may want to focus a chunk of your budget on that. Make a list of all the things that are really important for your wedding and decide how much of your budget you're willing to spend on each.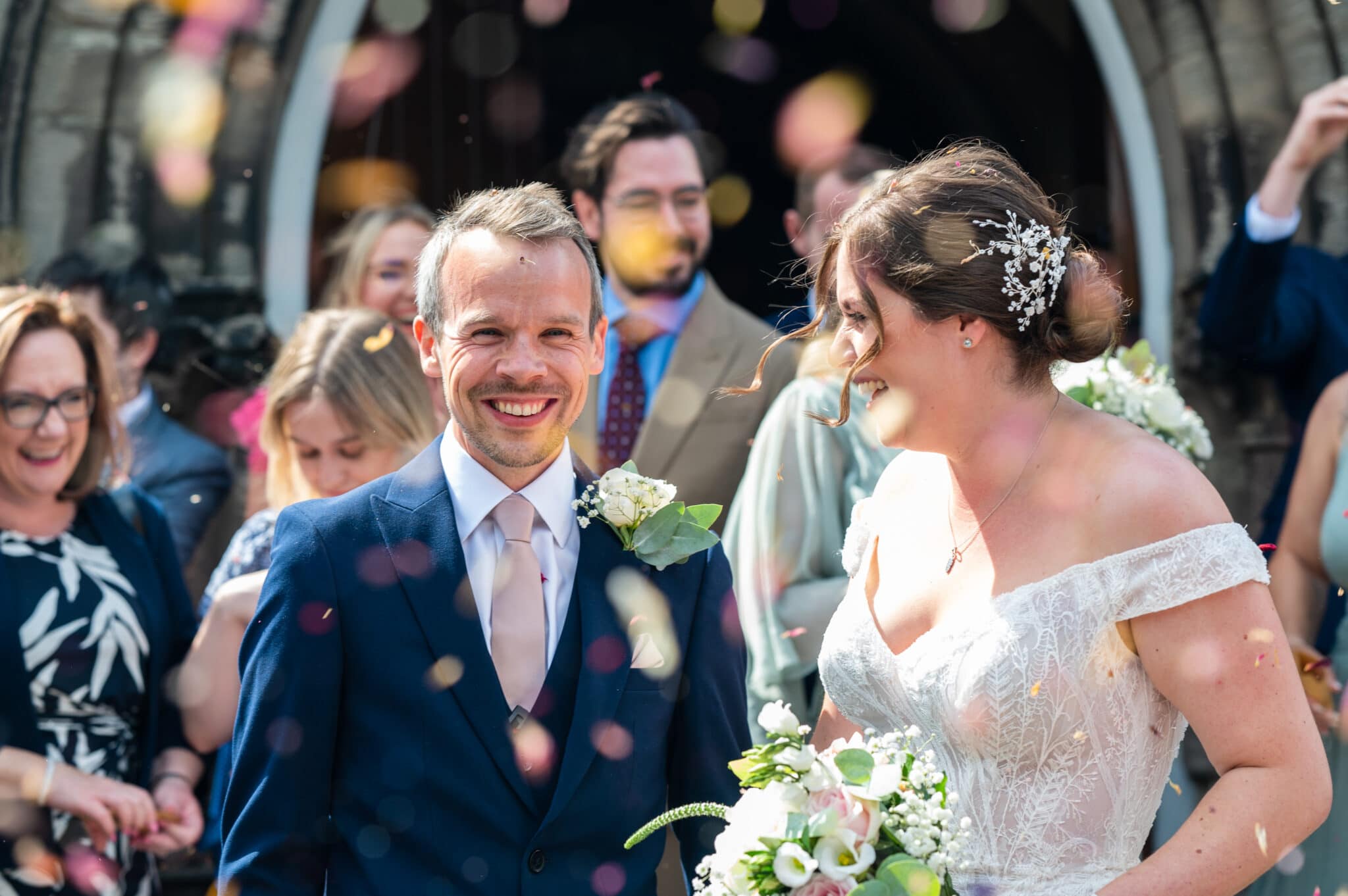 Get inspired & decide on the vibe of your wedding
Okay, so you may have been doing this for years and have a perfect idea in your head of what your wedding looks like. Or you might not have a clue. Either way is absolutely fine!
There's so many sources of inspiration out there, from the never-ending inspiration of Pinterest or Instagram to wedding blogs such as Rock n Roll Bride, Outside Bride and Unconventional Wedding a local, Nottingham-based alternative blog and directory we're happy to be part of.
It can be really easy to get lost in these bottomless sources of information for hours on end, and you'll probably find yourself clicking through link after link of wedding inspiration. We've all been there! It can be a little overwhelming at times so try not to get lost in there and narrow down the focus on the vibe you want for your wedding.
Once you've done some research (spending hours clicking through beautiful pictures on Instagram and Pinterest!), you'll have a reasonable idea of what type of wedding you're after.
At this stage, you'll need to decide on a rough idea of the number of guests you'll be inviting. This will give you an idea of the scale of the day and start thinking about when you'd like to get married.
Narrow down the dates
This might seem really easy, you might have a specific date in mind; whether it's an anniversary of getting engaged, when you met, or that romantic holiday that is really special to you both. This is an awesome place to start, however, be careful in selecting one perfect date that it simply has to be. Give yourselves a bit of flexibility.
Imagine you've chosen your wedding date, you've shouted about how you're getting married on July 18th because it's the anniversary of your partner surprising you with the stunning engagement ring watching the sunset on the beach. Then you find your perfect wedding venue, you have your hearts absolutely set on it but you find out that they are booked on that day. Now you've got yourself a headache! Perfect venue or perfect date?
Instead, narrow it down to a season, whether you're excited to get natural photographs outside in amongst the autumnal leaves of a woodland, you're hoping for a hot summers day (even in Britain it does happen..!) or you love the idea of a cosy winter wedding. Think about your work schedule, planning a wedding can be hard and in the month running up to it you may be planning to prepare things yourself, whether it's painting signs, creating a beautiful seating plan or even cooking a buffet (we've photographed a wedding like that – it was incredible but it did sound like hard work in the week before!).
So don't plan it for a time of year when you know work will be more mad than normal. Also, consider your holiday plans, if you have any. If you don't have any but are planning a honeymoon shortly after your wedding, when would you like to go?
If you've got a rough idea, that's great. It give you much more flexibility when it comes to booking a wedding venue.
Lastly, consider if there are any big events happening around then, do you want to be getting married on the day of a big sports final (you might not care but it might be annoying if your family are sneakily watching it on their phones!!) or other major event.
Choose and book your venue
Now you have rough idea of your budget, your wedding vibe and your dates, go and look at wedding venues. Narrow it down to a handful based on the type of wedding you want and the budget. Try not to visit too many in one day – it can get a little bit much. But just take it in, look around and try to imagine your day there, if you can't it's probably not the venue for you!
Write a list of questions before you visit and take them with you. No venue is going to be annoyed you're asking lots of questions. They will want you to feel comfortable and happy knowing you've chosen the right venue as you will.
Is there a plan B if the British weather doesn't cooperate?
Have they had many weddings there before?
How much support to they give you on the day – is there a wedding planner?
How flexible are they if you want to tailor your wedding to your needs.
Book your wedding photographer
There are so many wedding photographers out there, so it can be really hard to pick the perfect one for you. We think it's really important to get to know your photographer, at the very least, meet them, have a chat about you, your wedding day and how they would photograph it.
Still not sure? We've written another blog about the different types of wedding photography, from documentary wedding photography to traditional posed wedding photography to help you choose – 5 Simple Steps to choosing your wedding photographer.
Finally, enjoy the support and love of your friends and family
Wedding planning can be tough, you're going to need the support of as many people as you can get. We're not just talking financial support hear. We're thinking someone to have a cup of tea with and chat things through, a shoulder to cry on if you miss out on the dream venue, or crack open a bottle of prosecco to celebrate booking an amazing photographer, or someone to help you pick a suit or a wedding dress. For everyone of these little moments, you're going to need a friend or family member to be there to support you.
There's also tonnes of wedding planning groups out there if you're looking for online help and support, especially on social media and if you're looking for something a little different head over to the Unconventional Wedding Chat Room.
Looking for a wedding photographer?