How to Have a Super Fun Wedding dancefloor
If I could offer you only one tip for a fun wedding dancefloor, an awesome band would be it
To misquote Baz Luhrmann, 'if I could offer you only one tip for the dancefloor, an awesome band would be it'. A packed dancefloor means your guests, and you, are having a great time which if you're reading this blog is no doubt something you're after! If I had to give just one tip to get the dancefloor pumping, it would be to hire an awesome band. Simple as that. We've seen a tonne of weddings over the years and the best dancefloors are almost always led by an awesome band.
Obviously, you're going to want to consider what type of band you're after, whether it's going to fit in with the vibe of your day and whether your venue has the facilities to make a band work but it's absolutely the best way to have a great dancefloor!
Consider a Barn dance, Ceilidh, or dance teacher
Okay, so whilst live bands are absolutely the best for getting the dancefloor pumping, barn dances, ceilidhs or dance teachers (depending on the vibe of the music you're booking) add a little extra something. Not only is there a band but they're someone there teaching your guests to do some kind of dance which largely they haven't got any experience with but actually are not too tricky to master. Trust me, it'll lead to lots of giggling and laughter plus it is an amazing way of getting people to keep coming back to the dancefloor and dancing in a way they perhaps didn't think they could.
When to start the dancing?
Timings can be pretty important when it comes to dancing, particularly when considering the other things you've got planned in the evening. For example, if you've got some evening food planned, aim for it to land in a gap between sets of a live band or at a time when a DJ is playing more chilled-out tunes so that people aren't going to be splitting their time and effort between the two (plus it's super lovely to have food available for the band especially if they've been there doing multiple sets throughout the day)
When thinking about the start time of a band don't have them start too close to the end of a big meal. When they're stuffed people are more likely to sit down & be in a food coma than get up and show their moves on the dancefloor. So give them a little time to digest their food before asking them to pop out their best moves.
Get yourselves on the dancefloor!
The simplest way to get people involved in anything on the wedding day is to lead by example. Get yourself and your partner on the dancefloor! If you and your partner are on the dancefloor your guests will absolutely follow and if they don't, drag them there!
Get your guests involved in the song choices
Another great way of making your guests feel part of the process is allowing them to select songs – then when it's 'their' song they'll either come running to the dancefloor or you can drag them on with the excuse that it is! Also, if you've got a DJ check if they're open to taking requests as this can have the same effect.
A little Dutch courage goes a long way when it comes to a fun dancefloor
Let's not beat around the bush, people who have had a drink or two are much more likely to dance. So, assuming you're having alcohol at your wedding, let the booze flow!
Seating
Thinking about seating might seem like the furthest thing from your mind when thinking about how to get your guests on the dancefloor but, actually, if you've got a seating area nearby for people to have a break, they will chill out there for a bit before you or the band/DJ drag them back up there!
Bar & dancefloor positioning
Thinking about locations for things if you can have the bar and dancefloor in the same room or nearby then you'll find the dancefloor stays busier. Obviously, this isn't always possible due to restrictions or room layouts of venues but something that's worth considering. If people don't have to go far to get to and from the bar then they'll be able to stay on the dancefloor for longer.
Also, if people are at a bar and they hear their favourite song come on they may just give up and run back to the dancefloor and get their drink later!
Flip flops
Whilst I, Dave, can't talk from personal experience, I am well aware that a full day of wearing high heels hurts. So comfy footwear in the evening is definitely a win! So, whether is a box of flip flops or crocs (like Ellie was rocking last year) or recommending people bring flat shoes in the evening, it's definitely something worth considering.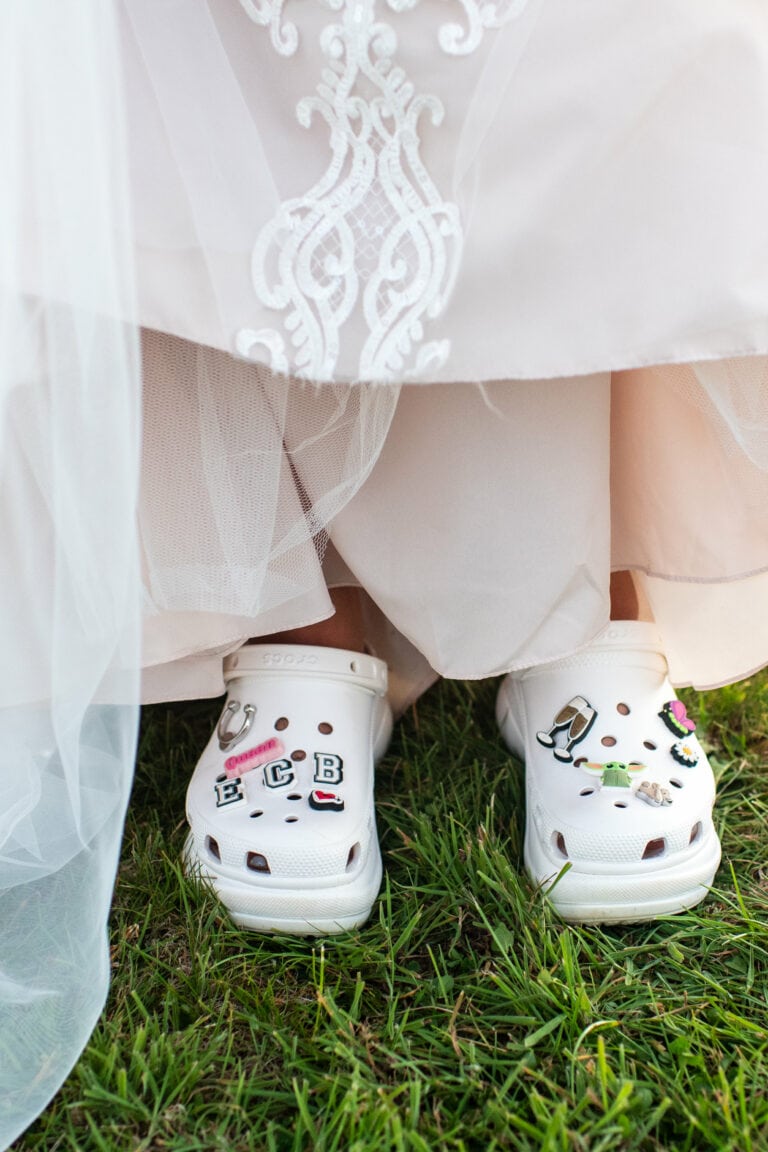 Hire photographers who like to get involved – like us!
This is another thing you might not consider when thinking about the dancefloor but choosing the right photographer certainly can have an impact.
I believe the most important thing about choosing the right photographer for you is to check they're your kind of people. If you want a jumping dancefloor you don't want photographers who are going to lurk on the edges looking awkward and making your guests feel awkward. You're going to want photographers who will get involved, have a laugh and look like they're having a great time too – everyone will feel more chilled out and the dancefloor will be much more lively (as will the photos!)
Here's a few snaps of us doing just that at a few weddings last year. Yes, Amy did even borrow a spare Hawaiian shirt at one of our weddings to get really involved! We have also been known to stick around after we're finished for a cheeky bevvy and a dance when the party is really kicking off.
Want to know more about our approach to photography?