Overgrown Acres Wedding Venue
Updated 2nd March 2023 – Original post & interview April 2020
Overgrown Acres Weddings is an awesome, new wedding venue set in the Nottinghamshire countryside a short drive from Nottingham City. This family-run tipi venue is owned by the lovely Michelle and is a perfect spot for an outdoor wedding.
It's one of my favourite local venues, so I've included it in my guide to the Best Wedding Venues in and around Nottingham.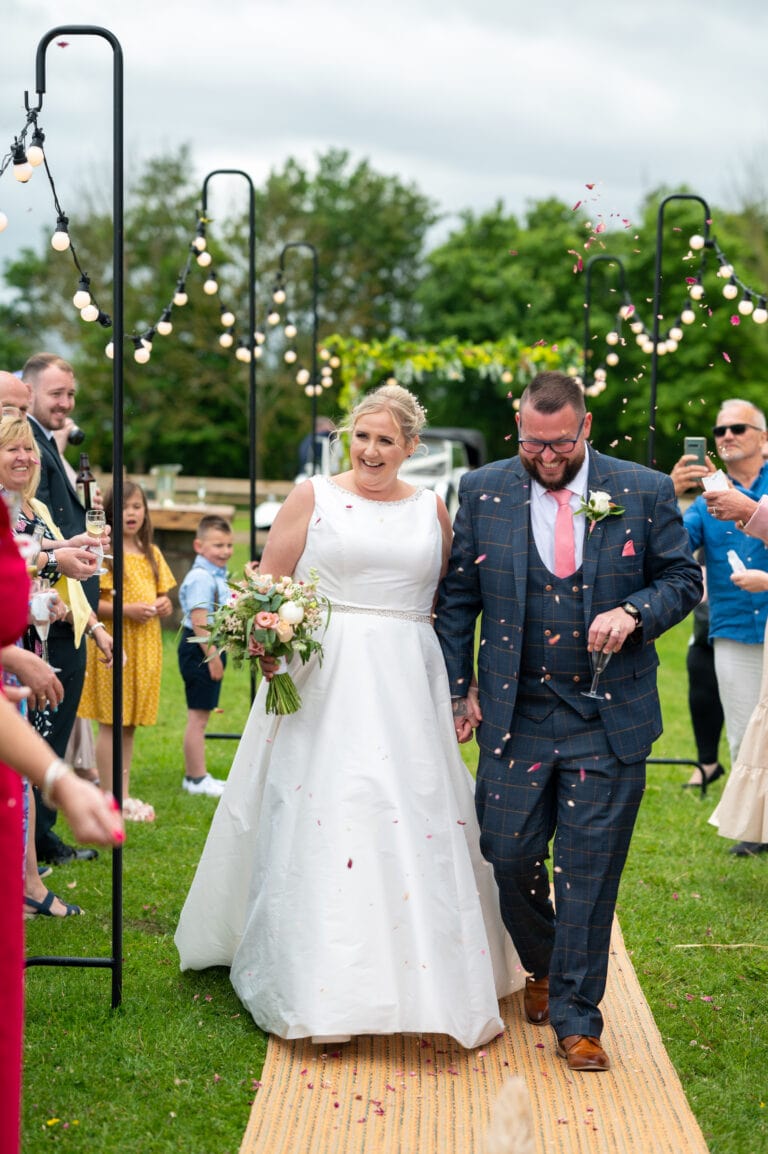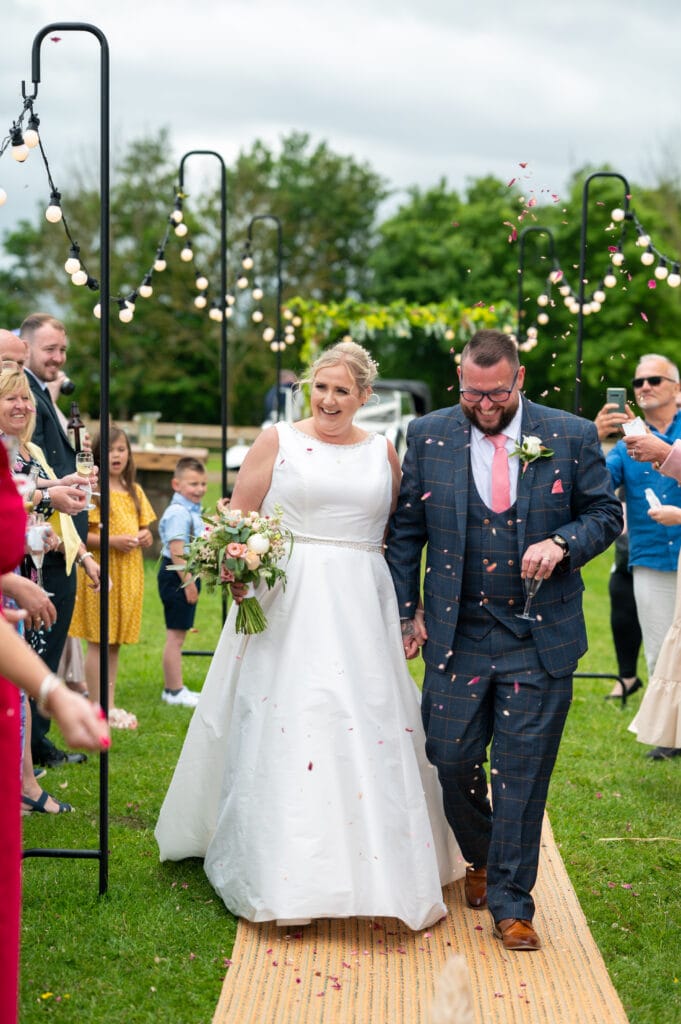 Why do we love it so much?
I only discovered Overgrown acres Weddings this year and I have to say I love it. It's a stunning little spot, a short drive from Nottingham but feels very much nestled in the British countryside. As I entered, I was met by a rustic welcome sign and a handful of curious sheep and I knew I was in a beautiful, authentic, outdoor wedding venue!
At the centre of the venue itself sits a three-hat tipi with a wooden floor, with a great view. Then there is the outdoor ceremony space, of which there is tonnes, there's the woodland with the long grass and then there's the newly installed gazebo which, combined with an aisle of hay bales make for a great rustic wedding ceremony all surrounded by a bank of trees and rolling hills.
I often find with a wedding venue, the people who run it really can make or break it. At Overgrown Acres Weddings, it's a real family affair with the owner Michelle supported by a whole host of family members and not to forget the lovely dog Rosie who always likes to get in on the action (she's an absolute pro when it comes to photobombing & appears in a couple of shot further down!) They're all a really lovely bunch, with tonnes of wedding planning & coordinating expertise between them and know how to put on an amazing wedding – what more could you need from them really?
Beyond that, I absolutely love how flexible they, and this venue, are. They're totally upfront with the costs, flexible on how you want to use the space and will work with you to ensure you have an awesome outdoor wedding!
Essential information:
Where is Overgrown Acres weddings?
Overgrown Acres is based in the Nottinghamshire countryside a short drive from Nottingham but easily accessible from all over with the M1 just a 20 minute drive away.
Cotgrave Rd, Nottingham NG12 5PE
Check it out on a map.
What better way to get all the essential information about this Nottingham wedding venue than to chat to those who run it? Here's what Michelle had to say:
What's the history of weddings at Overgrown Acres?
"As a woodland and meadow my father has rented and grazed the land for twenty years until in 2014 when I was able to buy the land so that his ponies may live happily ever after. Converting the goat shed and hay barn into a multi-generational home, where siblings Frankey and James and their families contributed significantly and continue to do so with pasture management. Following both daughters having outdoor weddings we realised Overgrown Acres as a family smallholding provided the perfect rustic venue. So the upkeep and improvements continue whilst maintaining such a beautiful space amidst countryside and green belt pastures, with our animals eagerly grazing."
How many guests can attend a wedding at Overgrown Acres?
"For a wedding ceremony we have 36 outdoor chairs and 12 straw bales, plus standing guests in our woods or at our ceremony pagoda, plus the special couple can hire in additional outdoor seating. Whilst, for a sit down wedding breakfast our tipis can accommodate 150 persons and for the evening we can comfortably accommodate 200 guests."
What are the approximate prices/ packages and do you have any minimum spends?
"Nope, we operate with full transparency and couples can select their own catering, our drinks packages range from £13-£16.50 for welcome drink, table wine and fizz for toast, however everything is fully flexible. In terms of catering, the couple can choose their own caterers which on average ranges from £10 per head upwards to £20/£30 per head for seated breakfast."
Is there parking on site?
"Yes, there's plenty of parking on site."
Is Overgrown Acres Weddings accessibility friendly?
"We are a wheelchair friendly venue and recommend discussing individual needs during a planning meeting. We are a meadow and as such the grass is uneven, high heels are possible though wedges are more comfortable and flips flops are a favourite for evenings."
What is the deposit and booking process?
"25% is required 18 months before but to accommodate those planning earlier we ask for 10% to book the date and 15% at the eighteen month date."
Is there a curfew for the end of the night or any other restrictions on the volume of music?
"Live music is permitted up until 11pm, whilst recorded music has to finish at 23:59, taxis should be booked for 00:00-00.15 and gates locked at 00.30."
What accommodation options are available on-site or locally?
"We have a beautiful bridal studio onsite for the couple to stay in.
Other than that there are some great camping, caravan, boutique BnB and hotels nearby;
Camping Thorntons Holt Stragglethorpe (4 miles)
Caravans only Heronbrook Cotgrave (3 miles)
Primrose House Boutique B&B Cotgrave (2 miles)
Gamston Lock (Marstons) (3 miles)
Nottingham Knight Premier Inn (5 miles)
Fosse Paddock Studios (AirBnB) (4 miles)"
Is there anything else you think couples should know?
"Our couples join us to celebrate their special day, as a big family we are keen to make sure their day is truly memorable and support them throughout the journey.
This year, 2020, has been difficult for us all, we have remained close and in communication with our 2020 couples and readily moved them to a date of their choice in 2021. We have now included this within our contracts for new couples.
We look forward to showing our beautiful venue to prospective couples, there is no obligation but you're welcome to visit us."
Top tips from a photographer (me!)
Having photographed many weddings over the years & seen Overgrown Acres in all it's glory, what tips would I give couples planning a wedding there?
Firstly, talk to Michelle about your plans. She's amazing and will be so flexible and helpful to ensure you have an awesome wedding. This is definitely a spot for those who love the idea of outdoor wedding, who love nature and want a rustic, tipi wedding venue.
Beyond that there are a load of lovely spots for a couples photo shoot and group shots.
There's the gorgeous woodland where outdoor ceremonies are often conducted. Later into the evening, with the sun peaking through the trees, this would be a stunning shot for some intimate couple photographs.
Alternatively, there's the beautiful colourful garden just around the corner, which would add some real colour to the background of group shots.
For those that fancy a short walk, the top of the hill is a gorgeous spot for a sunset shot.
For a confetti shot there are a couple of great options, My first thought would be on the path up towards the tipi. With the lines of fairy lights leading down towards the tipi and the colour and excitement of the confetti, it would make for a stunning shot!
What's the best way to get in touch with Overgrown Acres Weddings?
Michelle, as owner and coordinator is the person to contact. She guides couples through viewings, planning and on the day coordination. You can contact her at michelle@overgrownacresweddings.com, or why not find out more on their website or social media pages:
Facebook – @Overgrownacresweddings
Instagram – @overgrownacresweddings
Looking for an Overgrown Acres wedding photographer?