Willow And Rust
Wedding planning is no easy task, that's why choosing an awesome wedding planner will take a lot of the stress and worry out of planning. Willow and Rust was one of the first we thought about when we started writing our guide to wedding planners, keep reading to find out why.
Why do we think Willow and Rust are awesome wedding planners?
We first discovered Sam from Willow and Rust via Instagram and it was her vintage style that initially drew our eye to her work. After a little reading more about her and her business though I also discovered we shared the same ethos when it comes to the sustainability and reducing the environmental impact of wedding planning.
The first thing you read on Willow and Rust's website sums her up perfectly – "Glamorous vintage meets sustainable elegance". Beautifully styled and planned wedding that won't destroy the planet – sounds perfect to us!
We were lucky enough to meet Sam at a recent wedding and took the opportunity to chat to her about her business, her ethos and what makes Willow and Rust special.
Where are you based and how far from do you travel?
"I'm based in Derbyshire and mainly cover the East Midlands area, but I'll always consider anywhere, so get in touch!"
What's the biggest advantage of having a wedding planner?
"Hiring a wedding planner reduces the stress and anxiety of planning your day. The worry of getting it right and making your dream and vision a reality is taken away, which gives you the opportunity to relax and enjoy the process knowing you will have the day of your dreams.
I specialise in planning, and/or styling, Sustainable Outdoor Weddings. This type of event can make the process a lot more complicated, when you're dealing with a completely blank canvas. Then you add in the sustainability aspect and it adds even more things to think about. That's when a planner can be invaluable!
If however you don't want the full planning experience and feel you have this part of it covered, I can also help with just the styling side, making sure your wedding is picture perfect. I also hire out all of my props and tableware and will source or create bespoke pieces when requested. So if there is something specific you have in mind just let me know!"
How would you describe your business in three words!
"Sustainable, Vintage, Elegance."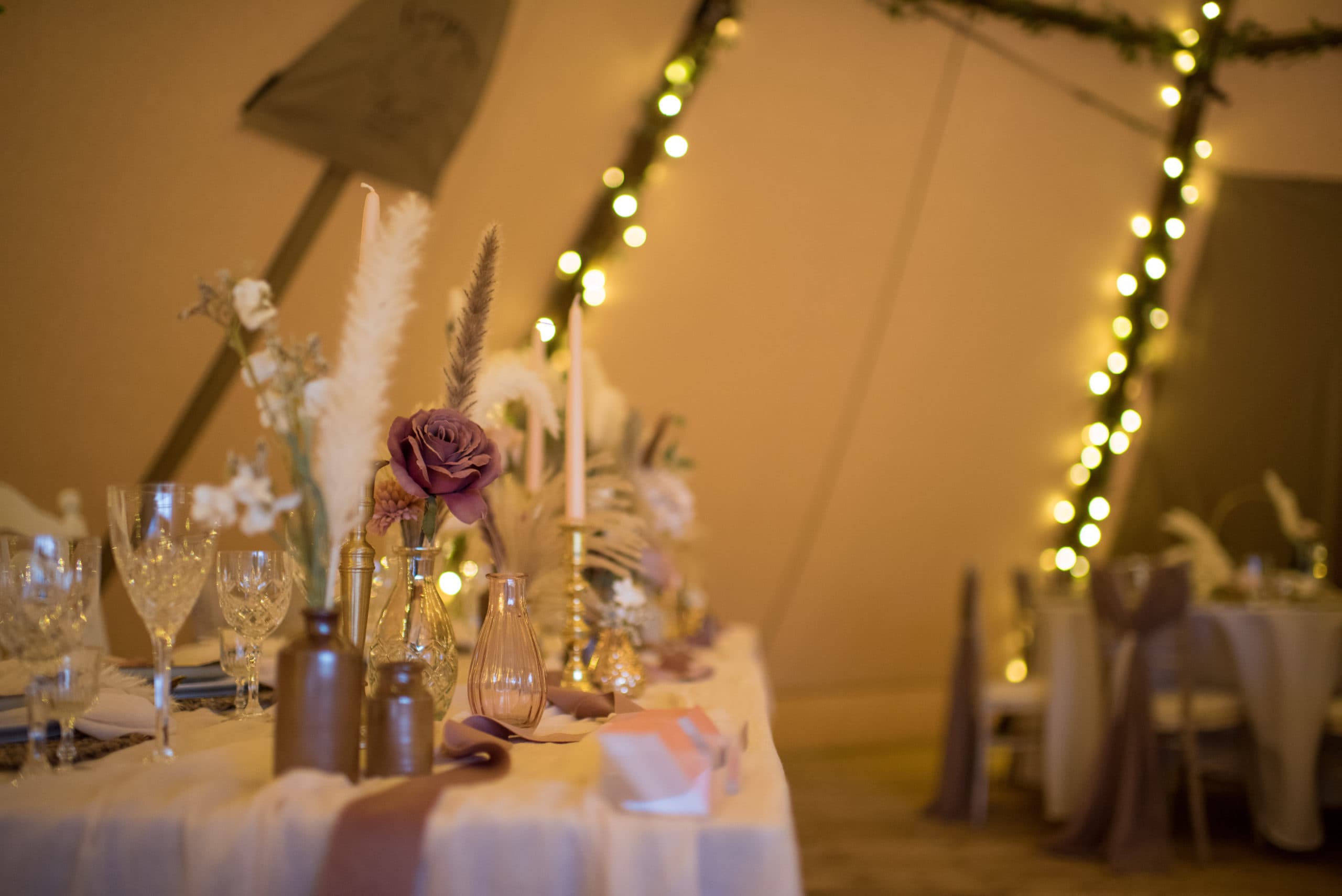 What inspires you in your business?
"The desire to help people do their bit for the environment while creating a beautiful unique event. To be sustainable without compromising on aesthetic. I love to see people's reactions when they see their venue dressed for the day, seeing their vision come to life.
Creating something amazing out of nothing, starting with a blank field, garden or woodland, barn or other location and building the event from the ground up."
On average, how much do couples spend with you?
"For planning services, on average between £2000-2500, I do however offer a variety of packages. I am seeing a lot more intimate and micro-weddings at the moment so I'm happy to tailor my packages to individual needs and budgets. But if it's styling and props that couples need help with, this can be much less."
What makes your business special?
"I would say the combination of style and sustainability, that when put together creates beautiful unique events whilst considering the impact that a wedding has on the environment. We only have one world and we need to start and take care of it!
If your dream is to get married surrounded by nature in a unique venue but also have minimal impact on the environment then Willow and Rust is for you!"
Facebook – @WillowandRust | Instagram – @willow_and_rust
Looking for a photographer?