Willow Marsh Farm | Wedding Venue Guide
I was lucky enough to discover Willow Marsh Farm a couple of years ago, just as they were starting out when the lovely Lynsey and David booked me as their photographer. At the point they initially booked Willow Marsh Farm, they hadn't even conducted a ceremony yet. Two years later, after a Covid postponement, Lynsey and David were finally married and I have to say I loved what Willow Marsh Farm had to offer. If it's a relaxed, intimate wedding you're planning then this could be the place! It's one of my favourite local venues, so I've included it in my guide to the awesome venues in and around Nottingham.
Why do we love it so much?
Whilst relatively new, it looks like it's been there for years, with the grand L-shaped barn, perfect for ceremony and wedding reception, the former milking parlour now converted into stunning bridal suit, and of course the grounds of the farm, with fields, woods and picturesque lakes, including one which makes an incredible backdrop to an outdoor wedding ceremony – as you can see below.
Whilst the venue itself was beautiful, the staff and service provided on the day was second to none. It's such a lovely family business with Simon and Sarah at it's centre but multiple other members of the family working tirelessly to ensure the smooth running of the day whilst being friendly and helpful throughout.
Essential information:
Where is Willow Marsh Farm?
Willow Marsh Farm is located in south Nottinghamshire between Nottingham and Loughborough.
What's the history of weddings at Willow Marsh Farm?
After getting engaged in 2015, Simon and Sarah spent the next few months searching, unsuccessfully, for an exclusive venue that would enable them to make their dream wedding a reality. So they began sketching their venue sat in the rubble of an old farm building and soon after Willow Marsh Farm wedding venue was born. They were the first couple to marry there and have gone on to add and improve the venue into the beautiful wedding venue it is today.
How many guests can attend a wedding at Willow Marsh Farm?
Willow Marsh Farm can comfortably accommodate 120 guests for dining or up to 180 to party into the night. And with a wealth of outdoor space, assuming the weather is on your side, there is plenty of space to spread out and explore.
What are the approximate prices/ packages and do you have any minimum spends?
The farm is available for hire over a three-day period and hire includes exclusive use of the grounds, Grand Barn, The Parlour, and the Stables as well as dining chairs, tables, benches and all fixtures and fittings. Stabling for horses and grooming services are available to hire for any horse-loving couples, accommodation and on-site catering provided by recommended local suppliers.
Is there parking on site?
Yes, there is plenty of car parking available on site and with easy access to all areas of the venue.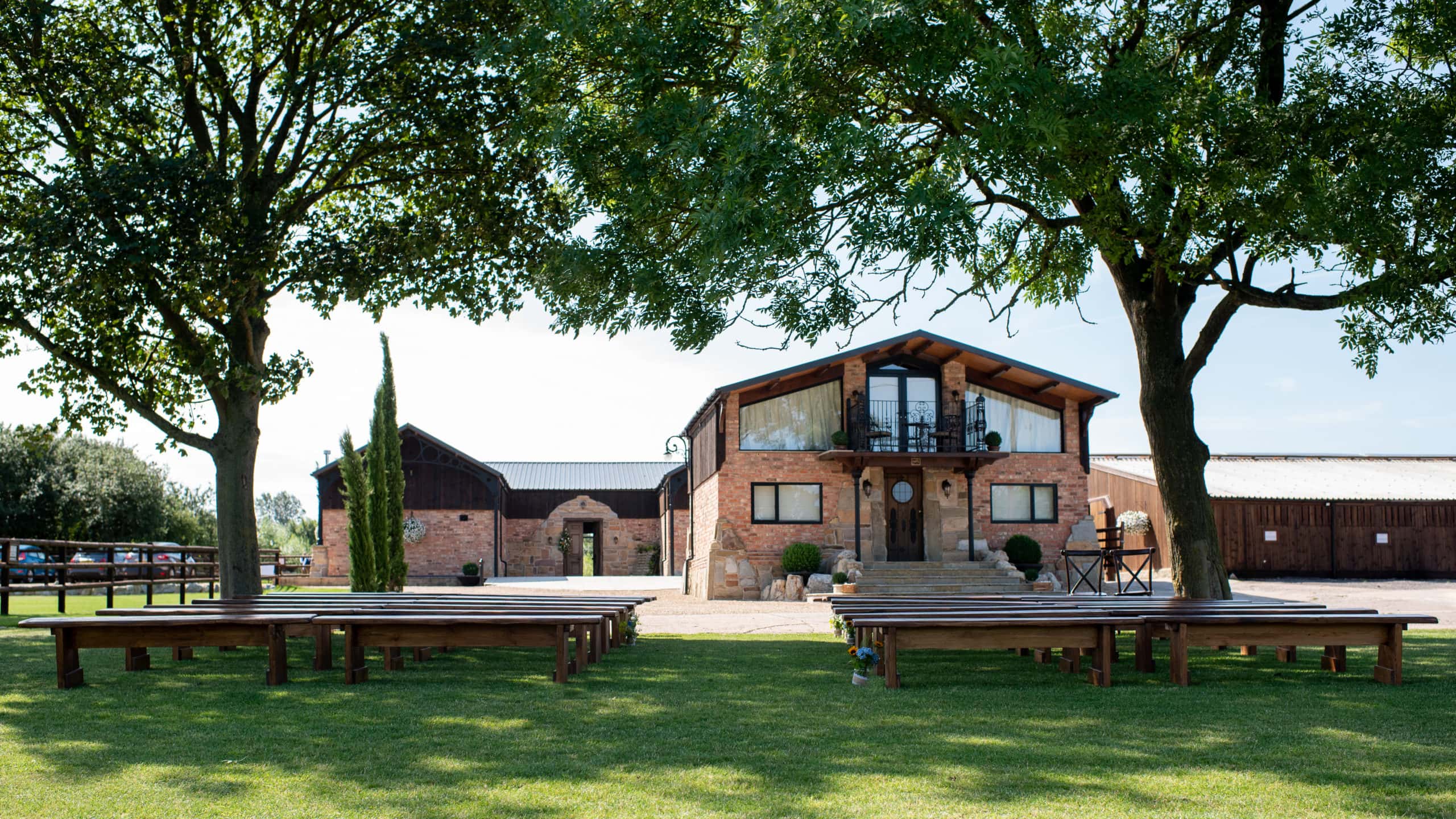 Is Willow Marsh Farm accessibility friendly?
Yes, the venue is fully accessible, with wide doors perfect for those with mobility issues or wheelchair users. If you, or any of your guests, have any mobility issues or additional needs I'd recommend talking to Sarah or Simon who will no doubt do everything they can to help out.
Can you throw confetti at Willow Marsh Farm?
Absolutely, there are a few great spots for throwing confetti, we chose to do it outside the steps to the Parlour which made for a great backdrop.
What accommodation options are available on-site or locally?
The former milking parlour has been lovingly converted into a stunning three-bedroom accommodation just meters from the barn and ceremony locations. As well as three bedrooms, there is living and dining space & bridal preparation area. As a photographer, I've photographed a lot of bridal preparations and I can safely say this is one of my favourite places I've had the pleasure of photographing.
From 2023, the Willow Marsh Cottage, a former estate worker's house, will be converted into accommodation for your wedding party, with three double bedrooms, a kitchen and dining space, all within a stone's throw of the lake and the parlour and Grand Barn.
Top tips from a photographer (aka me!)
As a photographer, Willow Marsh Farm is a perfect venue to shoot at, the venue is stunning, the staff are lovely friendly and there are lots of spots to explore for a couple photoshoot.
I also absolutely love all things outdoors, so when I found out they were planning the ceremony to be beside the lake I was delighted. If the weather is good, it's a beautiful location for a ceremony with the swans and the lake as a backdrop under the shade of the trees. If you are lucky enough to have the ceremony beside the lake I'd recommend suggesting to your photographer to go up to the balcony of the Parlour to get a photo of the whole ceremony with the lake in the background.
There are such a range of potential locations for group shots, there's the lake at the front of the venue, the stairs in front of the Parlour, the terrace at the back of the Grand Barn, or if it's a wet day could stand at one of the entrances to the barn looking out (and make your photographer brave the rain!) as the light would still be beautiful.
For couple portraits, there are lots of places to choose from, there is the lake at the front of the venue, which would be great for early afternoon photos because of the backdrop of the lake on one side and the barn on the other but also there is a lot of shade to hide you from the midday sun. On a rainy day, the terrace could make for a great spot for some outdoor shots as it has some shelter and still has big open background or alternatively the incredible hanging baskets could give a pop of colour. If you're up for a little walk (around 5 minutes), then walking out of the back of the venue will lead you to a bigger lake. During the summer, there were wheat fields lining the route to this second lake which also made for a lovely backdrop to some walking shots.
As there is a range of places to choose from, I'd highly recommend your photographer has a little explore as different areas will be better depending on the location of the sun. We ended up doing our photographs a lot closer to sunset than expected and we moved from the lake by the front to the other lake because the light was much better. So it's really handy to be able to have a good idea of the options on offer to be able to choose the best spot.
What's the best way to get in touch with Willow Marsh Farm?
If you want to go and check out Willow Marsh Farm for yourselves, you can book a viewing appointment on their website here, or alternatively, you can email them at thewillowmarshfarm@gmail.com.
Instagram – @thewillowmarshfarm
Facebook – @thewillowmarshfarm