Wollaton Hall weddings | Wedding venue guide
Wollaton Hall is an iconic Nottingham landmark just 3 miles from the city centre. It's the perfect spot for a picnic, stroll or, of course, a wedding! The Grade I listed Elizabethan mansion is set in 500 acres of natural parkland, with several beautiful locations within Wollaton Hall and Deer Park it truly is a stunning wedding venue.
It's absolutely one of my favourite local venues and would, along with a handful of others, be at the top of our wish list if we were to get married again in the Nottingham area, so I've included it in my guide to the Best Wedding Venues in and around Nottingham.
Why do we think Wollaton Hall would be an awesome wedding venue?
Wollaton Hall holds a special place in the hearts of many in Nottingham. It makes a stunning spot for first dates, family walks, a wedding or the backdrop to a Hollywood blockbuster (you may recognise it as Wayne Manor in The Dark Knight Batman trilogy).
Wollaton Hall is the versatility it provides – there are ceremony options for all tastes & sizes, from the original features of the Great Hall to the Camellia House, a stunning cast iron glasshouse with rows of roses.
Background information:
Where is Wollaton Hall Weddings?
Wollaton Hall is just 3 miles East of Nottingham City Centre so is easily accessible from the city but also the proximity of the M1 allows guests can get there from across the East Midlands and beyond.
Address: Wollaton Hall & Deer Park, Nottingham, Nottinghamshire, NG8 2AE
What's the history of Wollaton Hall?
Built back in the 1580s, Wollaton Hall has a long history, it's been home to industrialists, barons and, of course, Batman! It was originally built for Sir Francis Willoughby and remained in the Willoughby family up until 1881. At which point they decided it was too close to the big smoke and busy activity of a large manufacturing town and let it out to tenants.
In 1925, it was sold to Nottingham City Council and was opened as a museum the following year when it became home to George the Gorilla (who even has a Twitter account!), Hilary the Hippopotamus and Geoffrey the Giraffe (and a selection of other stuffed animals, butterflies and insects.
In more recent history, Wollaton Hall hosted it's first Splendour Festival in 2008, which has gone on to become an annual festival in the city, bringing top named acts into Nottingham. Whilst in 2011, Hollywood big name stars are on set as Wollaton Hall becomes "Wayne Manor" in Christopher Nolan's film The Dark Knight Rises.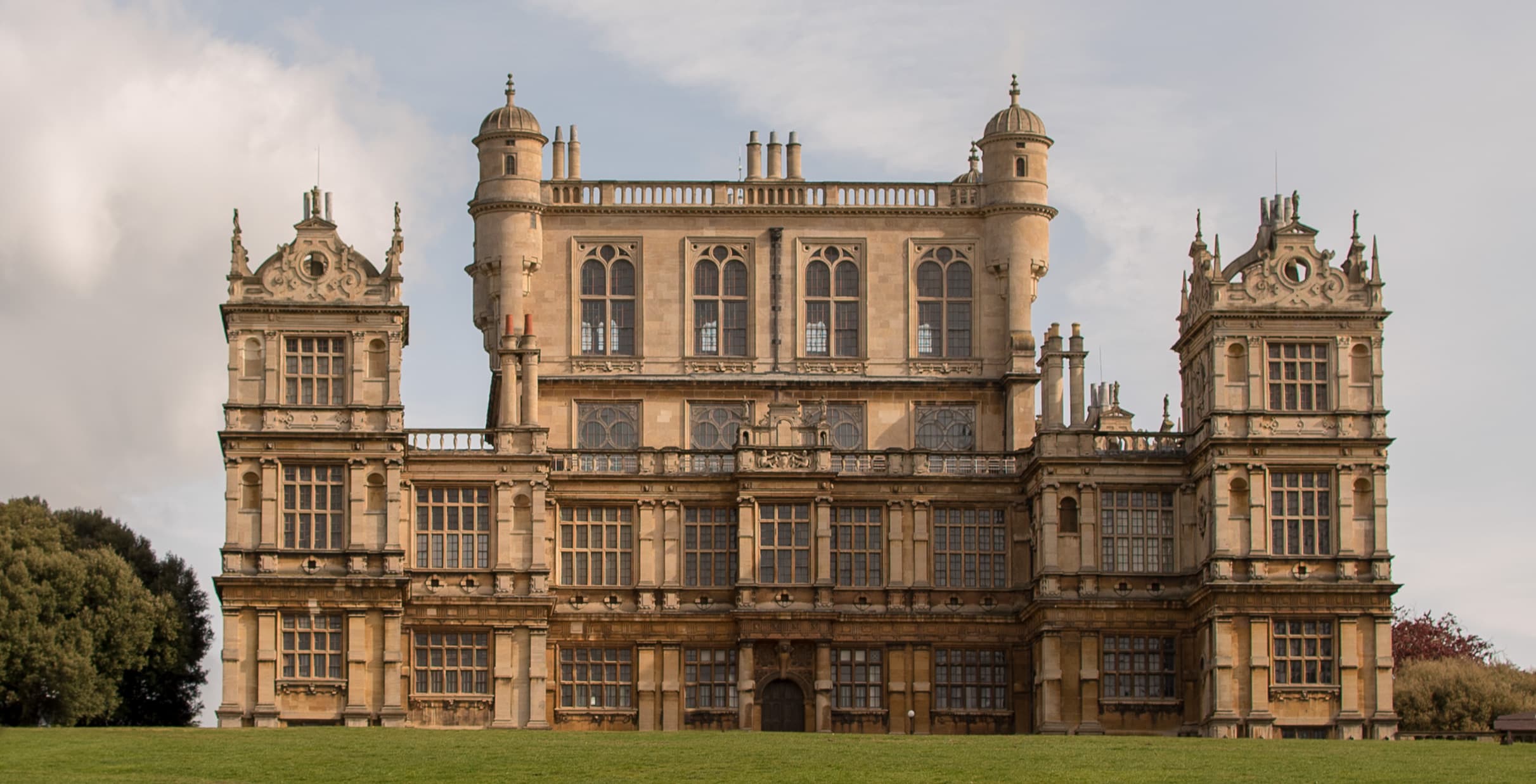 How many guests can attend a wedding at Wollaton Hall?
There are a number of different options for a Wollaton Hall wedding, from ceremonies of up to 100 guests in the Great Hall and receptions of up to 1000 (with a tipi/ marquee) to a more intimate affair with 15 guests in the Lord Middleton Suite. A full breakdown of the ceremony rooms and their capacity can be seen below:
Ceremony capacity:
Great Hall | 100 guests
The Great Hall with it's high beamed ceilings, beautiful original features and intricate sculptures is the perfect backdrop for a wedding ceremony.
Prospect Room | 50 guests
The Prospect Room has spectacular views over Nottingham and when flooded with natural light through the large windows is a great spot for a more intimate service.
Camellia House | 30 guests
The Camellia House is the oldest cast iron glasshouse in Europe and is situated within the formal gardens. It's an incredible spot for pre-dinner glass of fizz or photographs.
Lady's Chamber & Lord Middleton Suite
For an even more intimate service, the Lady's Chamber and Lord Middleton Suite are also available to hire for 20 guests and 15 guests respectively.
Wedding breakfast & reception capacity:
The Grand Hall is a spectacular place for a wedding breakfast and evening reception and can seat 100 guests for a breakfast and up to 150 guests for an evening reception.
Marquees & Tepee Receptions
Need something a little larger? A marquee on the back lawn or a tipi in the walled garden can cater for up to 1000 guests (depending on the supplier) so Wollaton Hall really can cater for any sized wedding.
How much is a Wollaton Hall wedding?
Wollaton Hall has a range of options for wedding hire from a wedding ceremony and pre-reception hire starting at around £1500 to pre-reception and evening drinks starting at around £3000 and up to £4500+ for the wedding ceremony and reception. And outdoor marquees/ tipis can also be hired as well. These prices do not include catering costs although they have some great pre-approved suppliers which they can recommend. More information can be found on their website in their wedding brochure.
Is there parking on site?
Yes – there is lots of parking on site as the museum and deer parks attract a lot of guests throughout the year.
Is a Wollaton Hall Wedding accessibility friendly?
Yes, Wollaton Hall and Deer Park has fantastic accessibility, with lifts to the gallery floors, fantastic paths around the grounds and manual wheelchairs available on request as well.
What accommodation options are available on-site or locally?
As Wollaton Hall is located so close to Nottingham you're actually left with a large range of options to suit all tastes and budgets. From hotels such as De Vere Orchard Hotel, the Hilton, The Linden Leaf Hotel to cheaper options such as Travelodge and Premier Inn, and of course there are also a whole bunch of options on AirBnB as always.
Top tips from a photographer (me!)
My top tip for a Wollaton Hall wedding would be for you (and your photographer) to go and check it out – you won't be disappointed. You'll see just how amazing this place is. How many options there are. How many places to see and spots for photographs. And all that's before you even get taken on the roof for your wedding – yes, that's right you can have photographs on the roof of Wollaton Hall on your wedding day!
With stunning views across the park and Nottingham, rooftop photographs are something really quite unique to add on to your wedding day. What a great place for some beautiful couple shots!
For group shots, I would suggest the formal gardens, the front or back of the house would all make stunning locations with a multitude of options for different backdrops all within a short walk of each other it really is a photographers dream!
One thing to note, however, is the house may still be open to the public. Considering this will be important for choosing when to have your group or couples photographs to limit the number of people around.
The Camellia House is a stunning spot for intimate group shots or couple's portraits. The rows of roses make for a lovely backdrop to photographs with natural light streaming through the glass walls it's a really beautiful spot.
What's the best way to get in touch with Wollaton Hall Weddings?
The staff at Wollaton Hall are really lovely and always willing to help. Get in touch with them on their website, give them a call or drop them an email:
Check out their website – https://wollatonhall.org.uk/
Give them a call: 0115 876 3100
Or drop them an email: wollaton.hall@nottinghamcity.gov.uk
Looking for a Wollaton Hall wedding photographer?