Our Guide To Planning An Outdoor Wedding
Updated October 2022
Outdoor weddings are our favourites to photograph. There's something undeniably magical about saying your vows in front of your love ones with nature as your backdrop. With the unparalleled beauty of a beach scene, a quaint woodland clearing or even wildflower meadow, it's no surprise to us that they are becoming much more popular & are first choice for so many! They can be the most enjoyable and memorable weddings for couples and guests alike, but planning an outdoor wedding requires a little extra thought and preparation.
To help you with all that thought, preparation and planning, we have put together this guide, whether you're planning an outdoor ceremony or are planning to spend the whole day in the great outdoors. Featuring words of wisdom from some outdoor specialists we'll take you through the important steps in planning your day.
Consider the legalities of planning an outdoor wedding (one ceremony or two?)
One big consideration in the UK is the legality of getting married outside.
If you live in Scotland, then you are in luck as Scottish law allows couples to marry anywhere so long as the ceremony in conducted by a registrar, Humanist Society Scotland celebrant or religious official. Despite suggestions of a change in the law in the 2018 budget and the ongoing review of marriage legislation, most outdoor ceremonies in England are not currently legally binding and you will have to pick a venue that can host a legal ceremony if you want to formalise your marriage in the eyes of the law there and then.
To have a legal ceremony outdoors, a registrar or vicar must perform the service at a licensed wedding venue which according to Nottinghamshire County Council must be a "physical permanent structure which must be a permanent feature in the grounds comprising one room and a roof; it should be able to accommodate six people; you must also have an indoor room to license in case of inclement weather". Venues that are known for outdoor services should have such a structure approved for married, like a gazebo or summer house.
If you have your heart set on a venue without a marriage license to perform an outdoor ceremony and want to formalise your union, you will have to have a legal ceremony elsewhere at another time. It can actually be quite fun to sneak away to the registry office in the days leading up to your main day and make it official with just a few close family members or friends as your witnesses.
This option allows you to be much more creative with your venue and your ceremony.
Outdoor weddings are the best…They allow you to do what you want, where you want and how you want it without the restrictions that some indoor venues impose. They are fun-filled and personal!
The hardest thing about planning an outdoor wedding is understanding the legalities behind them and working out the best way for you to become legally married first or after your outdoor ceremony in a way that fits you and your wedding.
Emily & Alan, The Outside Bride Blog
Consider your budget
Despite what people first think, hosting your wedding outdoors is by no means a cheaper option or one that can be taken without a lot of planning. Often, they involve DIY outdoor wedding venues, where you bring in different suppliers to sort out different aspects of your day – seating, flowers, decorations, food, cakes, celebrant and entertainment.
The biggest mistake people make is thinking it will be a cheaper option! If you want a full wedding experience and you need to hire in a full kitchen, water, loos etc you won't be saving money.
Ruth from Feeston – a Wedding Coordinator of Creative, Outdoor & Off-the-grid Weddings
The most important thing, as with any wedding, is deciding on your budget.
To do this, you need to first consider how much you have, or are willing to spend. Has anybody offered to help you pay (I'm thinking parents here!!)? If so, get a really clear idea of how much they are willing to commit. Sit with your partner and anybody who's contributing and come up with a total budget.
Next, you need to consider the amount you're going to need to spend on each aspect of your wedding. The venue and catering usually take up well over half of the budget. Although, depending on the type of venue you are planning this could be very different – especially if you're planning a wedding at a friend or family members' garden.
Using a wedding planning guide or even a wedding planner, can help to keep track of everything. You'll find that taking more time to consider the details at this early stage, the better you can plan and the less chance there will be of an expensive surprise later on! There will be plenty of extras that you wouldn't need to consider for an inside wedding such as external power, renting toilets and a 'Plan B' in case the weather gets a bit…well, British!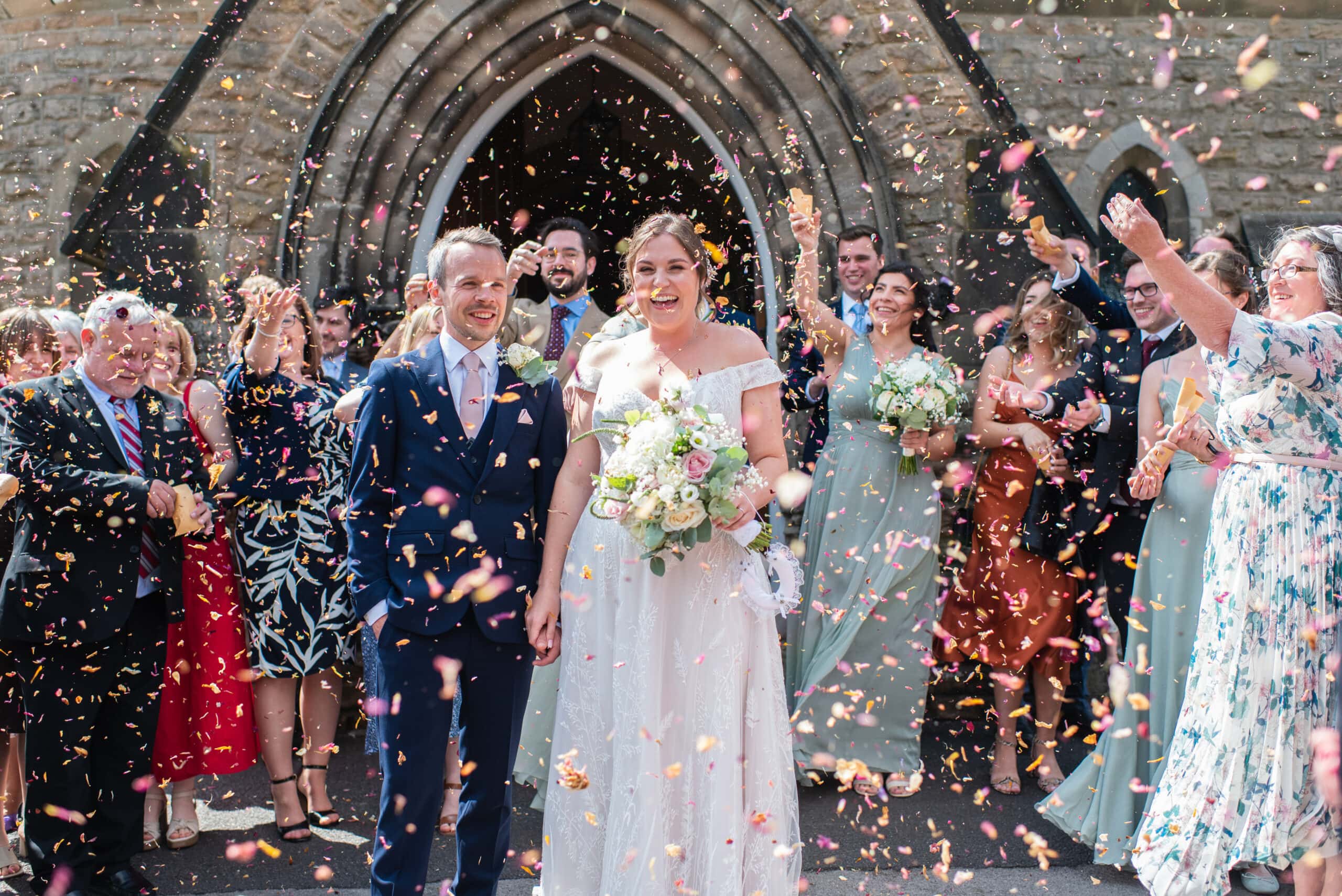 Finding your perfect wedding venue
When it comes to planning a wedding, choosing the right venue is obviously vital, but with an outdoor wedding, finding a venue can tricky! In our 'Best Venues in Nottingham' guide, we've got a section dedicated to outdoor wedding venues. You could also consider things like a friend/ family member's house with that stunning garden or hiring a country house for a weekend which can work as a blank canvas for a DIY wedding, where you bring in everything from chairs to the bar!
Whenever you visit a venue, you're going to have a long list of things you want to check. When you visit a venue about an outdoor ceremony you're going to have an even bigger list!
Have they held outside services before? Outdoor services can be tricky and may need to make quick decisions and changes in the lead-up to the day, their expertise will be vital.
Have they got a backup location in case of weather? We are in Britain after all! It could be really hot, rain or be windy each posing it's own challenges.
What will the flowers etc look like at the time of your wedding? You may fall in love with the venue's flowers after seeing them in spring but if you're wedding is in September it will look totally different.
Search for wedding suppliers that love the outdoors weddings!
This may not seem that important. But you talk to some wedding suppliers and they'll explain all the problems with an outdoor wedding not their excitement about being part of such a fun day!
Some wedding planners for example will happily pull on their sparkly wellies and trudge around in the mud, such as Linzi from That Black & White Cat Weddings, whilst others will be rather less keen! Choose suppliers who will embrace your day for what it is, who will have lots of exciting ideas and who will share your level of excitement!
By the way, I'm not sure if we've mentioned it yet, but if you're looking for a photographer – we absolutely love outdoor weddings!
Do you need an outdoor wedding planner or an on-the-day coordinator?
As Emily and Alan explained, as well as planning out your ceremony, it's important not to forget about coordinating everything behind the scenes, You need an "understanding of suppliers' requirements for setting up and taking down, i.e. how much time is required to set up, space they need, power, access vehicles on site, etc."
It's really important to consider the running of the day itself and to have someone who will ensure it goes smoothly. What happens if the water supply to the toilets is blocked or the electricity gets cut off? Do you have someone who can handle everything behind the scenes?
Consider a celebrant
Humanist ceremonies are some of our favourites to photograph and it's how we married in 2015. This is a personalised, non-religious ceremony which gives you the opportunity to celebrate your union whenever, wherever, and however you want.
These services can be completely tailored to your needs, and you will work closely with your chosen celebrant (the person who leads the order of service) to plan out your ceremony. They'll take the time to get to know you, how you met and create a bespoke ceremony that reflects you and your relationship.
You can incorporate traditions or practices from your own culture, any manner of readings, songs, or poems that you love. Make it your own and it'll be one to remember for a long time coming!
Check out our guide to our favourite Nottingham wedding celebrants.
How to plan an outdoor wedding whilst coping with the British weather!
What if it's a scorcher?
Of course in good old blighty, the biggest concern about an alfresco celebration is going to be the weather. Too hot, too cold, too windy or too rainy. They are all possibilities. But, with careful planning and thought, you can be prepared for anything our weather system throws at you.
Everyone wants it to be sunny on their wedding day, but what if it's a scorcher? If that's the case there's a few things you should consider. Firstly, have you got enough drinks? While refreshing Pimms may absolutely be in order, remember to supply enough soft drinks to everyone hydrated. Having a drinks table set up near where your guests are waiting for the ceremony could be invaluable.
Beyond that, what about shade? Is there anywhere for guests to take shelter? If your guests will be left exposed, a nice option is to supply some parasols and fans for guests to keep themselves cool. And finally, food. If you are planning a summer wedding, try and tailor the food accordingly. There's nothing worse than having to tuck into a hot dinner covered in rich gravy in the sweltering heat (trust me, we've been there!)
What if it's chilly?
Hopefully, it won't be cold on your wedding day but if it is and you've got guests waiting around outside for the ceremony or a space to relax in the evening it may be worth having blankets, perhaps some outdoor heaters on hand and into the evening perhaps a firepit or two?
From the brides perspective, if you don't have long sleeves on your outfit, it might be worth having a fancy jacket or throw that you can put on over your shoulders.
What if it's too windy?
Whilst wind might not be an issue for most weddings, if you've got an outdoor service it certainly could cause havoc! Firstly, are there things that can be blown away? It might be worth waiting until the last minute before putting out flowers, orders of service or anything that is vulnerable to being damaged or blown away entirely.
It may also be worth thinking about the sound. If it's too windy, your perfectly planned ceremony will be carried away with the breeze and your guests might not hear a thing. It may be worth considering having a microphone and speakers set up to ensure the whole congregation can hear.
What if it rains?
This one is a risk for ANY time of year in the UK so don't think picking an August wedding leaves you scot-free. Shelter, and an alternative place where you can hold your ceremony, are a must. This will also be very handy even if it is dry for your ceremony but rains in the day leading up to it. Hay bales caught in a rain shower will quickly become sodden wet with little prospect of drying out so it may be worth storing them, and other ceremony essentials, in a dry location nearby and having a groomsman, brother, sister or friend on hand to put them out last minute. Depending on your venue it might be worth you, and your guests, having a pair of snazzy wellies ready and providing umbrellas for you and your guests.
Of course, nobody wants to think about rain at their wedding. It's alright to be upset, briefly, but don't let it overtake you and ruin your day. If you're upbeat and flexible with the weather, your guests will be too. And this day is about celebrating your relationship, so sit back, embrace and enjoy it! For us, it can be a great opportunity to get creative with photography and give you some exciting images. Our trusty white umbrella is always on hand. Just in case!
All venues which conduct outside ceremonies should have a 'Plan B' and will have plenty of experience with this, so if in doubt talk to them and your wedding planner. Ruby B Ceremonies highlighted the importance of being organised and going with the flow:
Keep your guests informed
Once you've chosen your venue and you've got a rough idea of your wedding day plans, be sure to keep your guests informed!
Whilst you'll be prepared for embracing the outdoors, your guests may not be. Having an outdoor service can be a challenge for guests, but only if they're not prepared. So let's make sure they are!
If you're planning on having a service or reception on soft grass, make sure your guests know that so they can wear appropriate clothing. From wearing high heels shoes on grass, to wearing anything smart walking boots through a muddy field or shivering outside on a chilly day waiting for the bride to arrive it's best to keep guests informed to avoid all of these headaches! On the invites, it's worth having a few tips on preparing for your wedding, whether that be suggesting bringing alternative clothing or wellies or just a little note about the weather "In case of rain…"
Get creative!
Planning an outdoor wedding gives you an amazing opportunity to get creative, embrace your personality and fill your day with the things which you love and embody your relationship – so go to town with it! Whether that is crafting your own personalised ceremony with a celebrant, filling the day with the music that you bonded over, or decorating the venue according to your own taste, or theme. Forgetting the traditional 'shoulds' and embracing your shared passions will make your wedding an unforgettable experience for all!
When it comes to decorations, you can actually embrace simplicity and go with a more environmentally friendly approach.
You can also be creative with catering. It doesn't have to be a traditional sit-down wedding breakfast if that's not the vibe you are going for. How about festival-style catering vans (think outdoor pizza ovens, paella feasts or a hog roast), afternoon tea, or even a picnic and ask guests to each supply a particular dish. There are lots of options!
Talking of catering, the bar can be an area to get creative. If a full-on bar and bartender are out of the budget – no problem! Why not create an alternative bar? Fill some rustic wheelbarrows, a self-serve beer barrel on a homemade wooden bar or an old bathtub filled with a selection of drinks for people to help themselves to.
What about a wedding book? Ever wonder if there's a more interesting or exciting way to do a wedding book? A way which will allow you to display it in your home and will include your personality? We've seen some fantastic wedding book alternatives such as a fingerprint tree, a Polaroid guestbook – where people take a selfie, sign it and stick it in, or sign a guitar or other meaningful object in your life, a giant wooden "C" the first letter of the couples surname – which was a combination of both of their surnames or even giant Jenga where everybody signs a different block.
An alfresco wedding can leave you with lots of space, so why not make the most of this and set up a selfie station or photo-booth. These can be really fun ways of making memories throughout your day and making sure you've got some fun photos of all of your guests!
A great way of ensuring that you'll be able to search through all those many, many photos your guests take is to decide on a hashtag. It's worth taking your time with this one. Firstly, brainstorm some ideas – be creative! Next, you'll need to narrow it down and agree on one hashtag and then, and this is very important, make sure it's not currently being widely used – you don't want to mix your images in amongst another wedding or event. Finally, make sure your guests are aware of it, put it on the save-the-dates, invites and display it on signs throughout your day – especially near a photo-booth, if you have one. You can also use it to record the build-up, this is an especially good idea if you're doing a DIY outside wedding where there will be lots to prepare in advance.
An alternative to setting up a hashtag is to hire a photographer who uses a gallery that allows guests to upload their photos straight into the gallery (like we do!!)
Like our vibe?
Where next?