Wedding Day Timeline | 1pm Ceremony Timeline
Updated 6th April 2023
As a wedding photographer, I know that preparation and planning are absolutely essential for the smooth running of a wedding and having a wedding day timeline is one key part of that. A wedding timetable will help your guests know what's going on, allow your suppliers to work together to keep things running smoothly and allow us, as photographers, to know where to be to capture those perfect photos. But, unsurprisingly, most couples haven't organised a wedding before, so where to start? Check out our guide to planning a wedding day timeline, with a 1 pm ceremony as an example, below:
Before I start, I think it's really important to make a few things clear.
It's totally okay to throw this all out the window and do your own thing! I've included a section at the end for alternative wedding day timetables, you can get married at the crack of dawn if you like or get married late in the afternoon or evening.
It's your wedding, do it your way! Don't feel you have to follow all, or any, of the 'typical wedding' traditions. If you love them do them but if they don't suit you, that's fine too. If you want to do the speeches at some other point in the day, like before the meal (so people can relax and have a few drinks over dinner), want to get ready in the same place or want to ditch the first dance – do it!
This wedding timeline is worded for a heterosexual couple, but it's not intended to exclude same-sex couples. Obviously, if there's two grooms, you might need to allocate a little less time to hair and makeup. And the 'Bride getting dressed' section might need a bit of adapting! We love weddings of all shapes, sizes, ethnicities, and genders, and this guide absolutely adaptable to a same-sex couple. Love is love and each wedding is unique.
Why a 1 pm wedding ceremony?
Simply put, a 1 pm ceremony is one of the most popular times and the majority of wedding ceremonies will happen between 11am and 3pm. That doesn't mean it is the only time you should get married. It's just the time I've picked as an example.
5 simple steps to planning a wedding day timeline
5 simple steps to planning a wedding day timeline
Adapt this wedding day timeline template

The wedding day timeline below is a great starting point, but you really should treat it as just that, a starting point. Adapt it to suit your day.
Got to travel between your ceremony location and reception venue? Make sure you shift the timings to suit.
Planning to travel to get your hair and makeup done at the salon – make sure you add in extra time.
Not planning a first dance or cutting the cake – ditch it!

Find a fixed point in your day & base your wedding day timetable around that.

The best way to plan out your wedding day is to use a fixed point as a basis and work out from there.
The ceremony is the most likely thing to be fixed first. If you're getting married at a registry office then you'll no doubt have a set time for your ceremony booked. Whereas if you've got a more flexible venue then you will have to consider when you'd like your ceremony.

Look for any gaps in your wedding day timeline, what can you fill them with?

Have you ever been to a wedding where there is a long gap where there is nothing to do as a guest? Maybe the service is early and then there's a gap until the reception starts and there's not really anything happening in between. I actually went to a wedding when I was as a teenager and there was such a big gap after the service so we went for a swim in the hotel pool and then had a nap!
If you're worried there might be a bit of a lull, think about what you want your guests to be doing. Do you need to provide them with some kind of entertainment, food or drink? This could be anything from a musician to a magician, a bouncy castle to lawn games, whatever suits your venue and your wedding day

Plan in some contingency time

No matter what timetable you decide on, make sure there is plenty of contingency for things to run slightly over. Allow for things like traffic, delays caused by weather or some kind of technical problem with one of the suppliers. It doesn't have to be long but just allows a little time between each part of the day, this will then allow you to adapt things if something does get delayed.

Plan for end of the night

Something that has a tendency to get forgotten is the end of the night. It's definitely something you want to have sorted out before everyone has rather too many drinks!
Consider whether the venue has a curfew, is there a time when the music has to stop and when everyone has to leave? This will help when it comes to planning things like when the DJ and band will start and finish, checking your Spotify playlist will last long enough, and telling everyone when to book taxis (which is a great thing to add to the wedding invite).
Enjoying the snaps? Want to know more about our wedding photography?
Wedding Day Timeline template for a 1 pm start
9:00 – Breakfast
They say it's the most important meal of the day and I think that's probably even more true on your wedding day – you need to lining the stomach a little before the fizz starts flowing!
9:30 – Bridal preparations begin
The timing of hair and makeup will depend on how many bridesmaids you are planning to have. For bridal hair allow around 1 hour (including touch-ups) and for bridal makeup allow 45 minutes. For bridesmaids, it should take around 30 minutes for hair and makeup.
Tip: If you're getting ready at the venue, you'll need to check what time the room will be available on the day.
10:30 – Photographer arrives as hair & makeup begin
Photographer arrives, and begins photographing the details, getting ready and the bride getting her hair/ makeup done.
Suppliers begin to arrive at the venue to prepare the final details, or alternatively, if you're planning a DIY wedding, the groom, friends, family, minions, or pixies turn up at the venue to sort those bits out.
11:30 – Bride gets dressed
Often brides like to get photographs of the dress being zipped/ buttoned up by a bridesmaid or mother of the bride and shots of people, such as the father of the bride, seeing the bride for the first time are usually beautiful moments.
12:15 – Groom, & guests arrive for the ceremony
Usually, the groom will aim to arrive 15/30 minutes before the guests to greet the keen beans.
12:15/ 12:30 – Bridal party photos
At the point everyone is ready can be a great time for some pre-ceremony group photographs (if you want them!)
It's also a great time to eat a snack, if you can, especially if you've had a glass (or two) of bubbly!
12:45 – Bride arrives at the venue
Depending on the kind of ceremony you are having you may need to allow time to talk to the registrar, vicar or celebrant.
Tip: Don't rush to get down the aisle, this is a good time to pause, take a deep breath, relax and get ready for the excitement of the ceremony! You'd be surprised how often this moment can make an amazing photograph, so take it slow!
13:00 – Ceremony
The length of the ceremony will depend in large part on what type of ceremony it is, registry office ceremonies are typically around 20-30 minutes whereas a celebrant-led or church service can vary more and could last for up to an hour.
13:30/ 13:45 – Confetti shots
If you're thinking about a confetti shot, which is always a fun and colourful moment at a wedding, after the ceremony can be a great time. Everyone is together and so it can be great time to arrange them for your confetti shot before everywhere spreads out and has a few drinks! For more info and tips on planning an alternative confetti shot, check out my confetti shot planning blog.
14:00 – Reception drinks & group shots
By this stage, people will be hungry! Especially if they haven't eaten since breakfast, so it's worth having something available such as canapes or some other kind of snack. Whilst everyone is mingling and eating is usually the best time for some group shots (if you want them). A best man, or someone with a loud voice is a useful person to have around at the point to organise people!
Tip: If you're planning group shots keep the list short. If you've got a list of 20 shots you'll probably find everyone (including you!) will be fed up by the time you've done a handful. You want to spend the day partying and celebrating with your guests, rather than having them wait in line for group shots, don't you?⁠
14:30 – Couple portraits
As documentary wedding photographers, whilst we keep most of our photographs candid and unposed, we do still offer couple portraits, but we won't spend too long on them as for us wedding photography is more about capturing what happens on the day. Generally, we allocate around 20 minutes, possibly a little longer if we need to travel somewhere to take them. And they will be a very relaxed affair, a wander to somewhere beautiful, a few snaps and jokes and then back to where you want to be – your party!
15:00 – Guests seated for wedding breakfast
Often the guests will be seated first and then the couple will be announced into the room (followed by lots of cheering, whooping and general happiness!)
15:20 – Wedding breakfast is served
After everyone is settled and the food is served, as photographers, we would tend to take a break here. We are human after all! And let's be honest, nobody likes photos of them eating do they?
What kind of meal you are having will affect timing – a three-course meal will take considerably longer than a buffet. Caterers allow for 30-45 minutes for guests to move through a buffet whereas plated meals are served around 45 minutes apart so you need to allow 2-3 hours for a meal.
17:30 – Speeches
Speeches can be before the meal, after it (as is traditional) or in between courses to break things up a little. It's totally up to you, you may want to get the speeches done as soon as possible so you can get on with your day – this was absolutely me on our wedding day by the way! I hated the idea of giving a speech and wanted it done as soon as possible so I could relax and enjoy the rest of the day.
There's also a traditional order of speeches which is Father of the Bride, Groom and then Best Man. However, like any tradition, take it or leave it! I've seen plenty of brides and mothers speeches, and I've even seen random people popping up from around the room giving impromptu speeches which was a lovely, unplanned touch!
18:00 – Coffee/ evening drinks/ live music
This is often one of the more flexible parts of the day, people may have had a couple of drinks by this point and will be happily milling around chatting and catching up. It's often a good time for some entertainment to make sure it doesn't feel like a lull, perhaps a magician, guitar player or singer might be a nice touch.
18:30 – Evening guests arrive.
Evening guests start arriving and the couple may take this moment to sneak off and get some 'golden hour' photographs. Again, this is totally up to you, it's something I'm happy to do but I also remember kind of wishing we'd stuck around to celebrate with our friends and family at this point rather than hiking up a nearby hill for some lovely photographs.
This is also around the time the DJ/ band will be setting up for the evening's entertainment.
Tip: If you're going for some golden hour photographs, consider who will be there to greet your evening guests, is everything clearly signposted or can a best man/ bridesmaid be around to greet people in person?
19:30 – Cake cutting followed by the first dance
These two events are often closely linked, the cutting of the cake is often just before the first dance and then the party can really begin!
20:00 – Let the party begin!
The DJ or band will usually either play the first dance song or start just afterwards. And then let the party begin! This marks the end of most of the formal moments, although evening food will often be served either before or after the first dance.
20:30 – Evening food served
The timing of this depends on the kind of food you are serving. If it is a festival/ food van kind of evening meal then they could be set up and ready to go earlier and people just go and grab something when they are ready. This is particularly good for evening guests who will not have just eaten a big meal!
Midnight – Party finishes or moves elsewhere
The timing of this will depend on your venue. Some will have a time where live music needs to stop which may be earlier than midnight, whereas others, particularly, will have a separate bar that can remain open late into the night or you may even have a venue where you're allowed to camp there and so you may find yourself winding down around a fire pit and then lying under the stars into the early hours!
Looking for a fun & easy-going wedding photographer?
Wedding Day Timeline FAQs
Which comes first hair or makeup?
Hair will typically be done first because hair styling tools (straighteners, curlers or driers) produce heat so could cause perspiration. However, due to timetable restrictions, this is not always possible, particularly if you have a large bridal party, in which case try to avoid having shine products sprayed too close to your face after your makeup is done.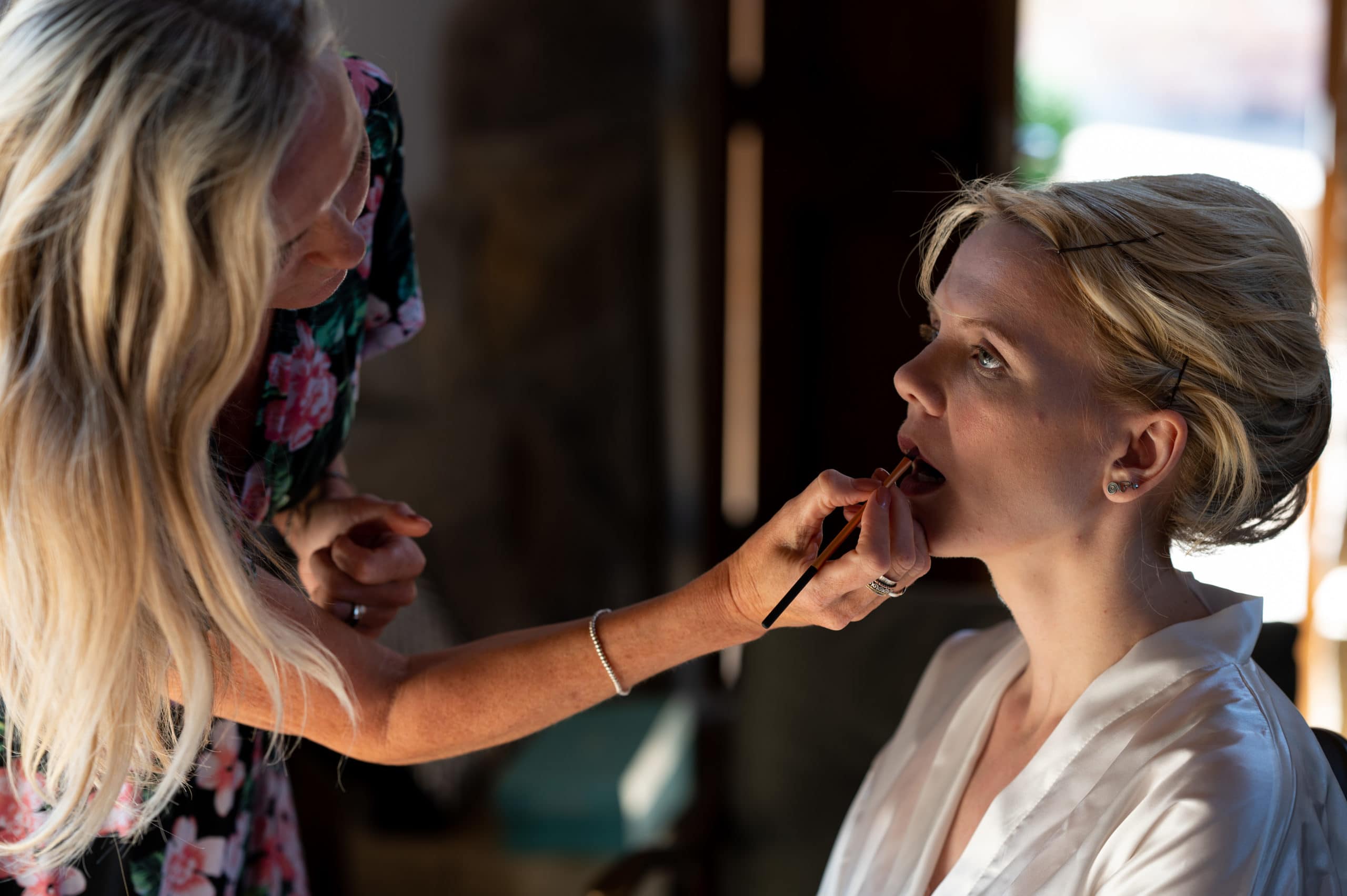 When should hair and makeup be done for wedding?
Typically the bride and bridesmaids will be ready around an hour before the service (assuming they don't have to travel to get there). It's best to check with your hair stylist/ make up artist but usually the bridesmaids will be done first and the bride will be the last to get ready. This can sometime change if you're planning photographs before your ceremony and you are a little tight on time.
How long before wedding ceremony should bride be ready?
This depends a little on whether the bride needs to travel from where she is getting ready to the ceremony. Assuming she doesn't need to travel, the bride is typically ready around an hour before the ceremony. This allows time for a few photos of her in her dress, with bridesmaids/ her family, maybe a glass of bubbly and then a moment to relax and take a breath before the ceremony!
What time is a typical wedding ceremony?
Typically wedding ceremonies take place any time between 11am and 2pm. Howeverr, weddings can happen at any time, depending on the season, the kind of venue you have, and the availability of the celebrant, registrar or vicar. It's possible to get married at the crack of dawn or late into the evening. Like anything you can totally ignore the traditions and do your own thing – that's one of my favourite things about wedding these days – do it how you want!
How long does a wedding normally last?
A wedding ceremony will typically last anything from 20 minutes for a registry office service, to an hour for a more personalised celebrant-led or religious service.
What time does a wedding usually end?
This largely depends on the venue, some will have restrictions as to how late music can play or when they can serve drinks to whilst others will allow you to party late into the night. Somewhere around 11pm or midnight are typical end points for a wedding.

Alternative wedding day timetable
We love it when couples do things a little bit different – so much so that we've written a blog all about alternative weddings to give you some inspiration head over here – and there are plenty of ways of planning a slightly, or very, alternative wedding timetable.
Sunrise wedding
Sunrise is a beautiful time of day, whilst a lot of photographers might talk about the golden hour portraits in the evening, maybe you're more interested in the sunrise wedding and some super early morning portraits. There is a lot of symbolism linked to a new dawn and new day representing the start of your journey as a married couple.
Such an early morning wedding would mean you'd have to really think about some logistical things such as hair and makeup, can you convince a hairstylist/ make up artist to do your hair that early? Does it matter to you? Could you do it yourself?
Also, are your guests early morning kind of people? Will they be traveling a long way and will it be possible for them to get there? It might be that, because of this, you think about eloping or planning a really intimate service. You could have an intimate early morning service followed by a bigger party later in the day for those who couldn't get there or get out of bed!
Brunch wedding
Arguably a more civilised time for a wedding, but still a little alternative, a 10:00 wedding lends itself to a brunch wedding. Why not have mimosas or bloody Mary's starting at 11:00, a sit-down brunch or buffet at 11:30, speeches could be at 12:30, cake or dessert at 13:00, and then the day could end at some point in the afternoon.
Evening Wedding
An alternative wedding day timetable could see you getting married in the evening. It will give you and your guests plenty of time to travel and to get ready – this will be great if they have a long way to travel.
An evening wedding is undoubtedly a great way of saving money on food and drink. Ultimately, there won't be time for a wedding reception, canopes AND an evening meal. So you can pick the elements you want and do them.
TIP: You are likely to want to have a professional photographer, as it will be dark for most, if not all, of your wedding. So it's going to be tricky for your guests to get any high-quality photos and you're going to want to make sure a professional is on hand to capture your day.
The biggest problem of an evening wedding is that couples tend to want to make the most of their day and therefore a day wedding allows them all day to celebrate and share the day with their friends and family.
Ultimately, you've got to remember, it's your wedding do it your way!
Use this guide as a guide, but take the time to adapt it, change it to suit you and your wedding plans.
Looking for a fun & easy-going wedding photographer?